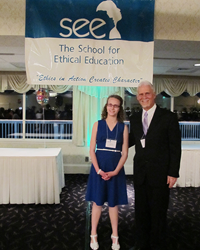 Glenholme has simply been a life changing experience for our son and our family. They can give him... what we believe is his best and greatest chance of success in adulthood. Truthfully, our only regret is that we didn't find Glenholme sooner.
Washington, Connecticut (PRWEB) May 12, 2015
During May, the month designated as National Mental Health Awareness Month, millions of Americans join in activities central to raising awareness for mental health issues and those affected by them. The Glenholme School, a coeducational therapeutic boarding school, recognizes National Children's Mental Health Awareness Week, which began on May 4, as a valuable time to raise awareness to the matters and the need for quality services central to children's mental health across our country.
With the changes in health care coupled with the rise in mental health diagnoses of young people, it has become harder for families to find adequate and timely services — particularly for a parent who has a child in crisis. As a provider of quality services to young people with special needs, The Glenholme School understands these concerns and strives to assist children in developing the skills needed to avert a crisis and successfully navigate the educational, social, emotional demands of life.
This year, Glenholme commemorates 50 years of the gift of the Glenholme Farm to the Devereux Foundation. In the time since 1965, the school has helped to change the lives of thousands of emotionally fragile young people who have unique challenges and learning needs through a safe, supportive, therapeutic environment. Essential to providing these children with the best possible learning experience is a strong educational program incorporating inspirational academics and a wide array of extracurricular activities including the arts, athletics, culinary, technology, character education, a comprehensive executive functioning skills curriculum, community service, and equestrian and animal programming. All of which specifically structured to teach social skills, coping strategies, and executive functioning, as well as self and home care skills; and are supported by an individualized, in-vivo therapy program.
One valuable educational project for students during the year is the opportunity to evaluate their "laws of life" for Connecticut's Laws of Life essay program held by The School for Ethical Education (SEE). The process provides students the chance to consider their personal challenges or evaluate important character traits they have discovered while at Glenholme. The results are not only personally rewarding and developmental for students, but can also culminate in award-winning essays.
In recent years, Glenholme was privileged to have two students recognized among the statewide Laws of Life essay program winners— a significant feat considering the modest size of the school. Both winners wrote poignantly about their personal struggles and the qualities that make the most difference in their lives.
Glenholme's first winner, Nico, was honored for his earnest work entitled, "The Box," which focused on the challenges he faces with having Asperger's. While many wrote about external experiences, Nico wrote of his internal "box," in which he holds motivation, perseverance, and certitude. Of these qualities, he writes "are my saviors, my guardians, the helping hands when climbing the tallest of mountains. They are more than just attributes … they are my best friends and they help me reach the goals that I thought were unreachable."
Just last year, Helena represented Glenholme as the winner for her essay entitled, "What I Think About Thoughtfulness," in which she takes the reader through her evolution of emotional awareness as it relates to being kind to and considerate of others. Of her ideal, she wrote, "The kindness and cruelty of the world is in the hands of the people who live across its surface. If you can spread at least a little kindness, it's like putting a dollar towards a world."
The success of these two students show us that incredible things can happen when young people affected by mental health challenges are provided quality services during the important development stages of childhood, adolescences and early adulthood. While the month of May calls our attention to mental health concerns across our nation, it is important to continue the endeavor of raising awareness throughout the year. The goal of giving every young person their best chance at a successful future is a mission worthy of our continuous attention.
"A healthy mental status is essential to every person's overall health and well-being. This is particularly important for children and young adults," noted Maryann Campbell, Executive Director of The Glenholme School.
About The Glenholme School:
The Glenholme School, a center of the Devereux organization, is a not-for-profit 501(c)(3), coeducational, therapeutic boarding school for young people with high functioning autism spectrum disorders, ADHD, OCD, Tourette's, depression, anxiety, and various learning differences. The program provides a treatment milieu designed to build competence socially and academically. Our learning environment supports and enhances the ability for young people with special needs to succeed. Devereux is a leading nonprofit behavioral health organization that supports many of the most underserved and vulnerable members of our communities. For more information about The Glenholme School and its program, visit http://www.theglenholmeschool.org/home.