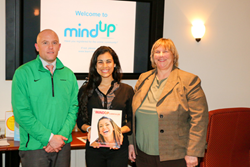 At Glenholme, our goal is to help young people thrive in all facets of life and we believe MindUp ™ will assist students with their academic success and their emotional well-being.
Washington, Connecticut (PRWEB) May 16, 2017
Since 1968, students from around the world have benefitted from the positive, comprehensive educational atmosphere of The Glenholme School. The program is specifically designed to help young people with high function autism, ADHD, compulsive behaviors and learning differences. The school recently added MindUp ™ practices to daily routines to assist students with their social and emotional growth and academic success.
The strain and consequences of modern life complexities are troubling. A fact highly reflected in the lives of children, particularly those who endure the social and emotional challenges of ADS, as well as learning and attention issues like ADHD. Identifying the need to transform the lives of children, Goldie Hawn launched The Hawn Foundation in 2003. Central to their effort is their signature program, MindUp ™ — an evidenced-based mindfulness program designed at engendering more focused, positive and resilient young minds. After more than 10 years, they are continuing to flourish and their results are extraordinary. Even after only one year of implementing the program, schools report significant reductions in absenteeism and problematic behaviors and a correlation to increased positive manners and abilities.
MindUp ™ is constructed on four sturdy pillars incorporating neuroscience, mindful awareness, positive psychology, and social-emotional learning. The MindUp ™ training, delivered to Glenholme staff in mid-April by a knowledgeable and energetic instructor, provided teachers with enhanced skills and strategies for mindfulness work to help develop the whole child and create a more focused classroom. The MindUp ™ curriculum makes a magnificent match to the Glenholme program and dovetails well with the school's efforts to form more motivated and focused learners within a positive school climate.
At The Glenholme School, every aspect of the program is directed at developing the whole child. A child's brain is a muscle that requires exercise. Meditation or Mindfulness, well known for its efficacy for thousands of years, is the ideal brain training to guide young people away from the distractions of modern life.
About The Glenholme School:
Devereux Advanced Behavioral Health— The Glenholme School is an independent, coeducational, special needs boarding school for young people with high functioning autism spectrum disorders, ADHD, OCD, Tourette, depression, anxiety, and various learning differences. The program provides a treatment milieu designed to build competence socially and academically. Our learning environment supports and enhances the ability for young people with special needs to succeed. Devereux Advanced Behavioral Health is a leading nonprofit behavioral health organization that supports many of the most underserved and vulnerable members of our communities. For more information about The Glenholme School and its program, visit http://www.theglenholmeschool.org/.