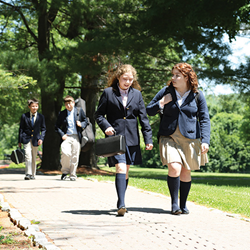 Glenholme saved my son's life. I credit the school with everything my son has accomplished since he arrived at Glenholme and anything he will accomplish from here on out.
Washington, Connecticut (PRWEB) November 19, 2014
American Education Week 2014, which kicked off on November 16, prompts our nation to celebrate education and honor individuals who make a difference in the lives of young people. The Glenholme School, a therapeutic boarding school for students with various social, emotional and academic needs, celebrates a 45-year tradition of providing a normalized and inclusive school setting; one in which students have the opportunity to participate in an abundance of activities designed to allow them to explore and develop their individual strengths and interests.
Normalization and inclusion are not new concepts; in fact they have been discussed, debated and defined repeatedly over many decades. The result is a common teaching practice in public school settings that resembles very little of an ordinary school experience for students with learning differences. When a student requires a special setting which provides greater support and instruction, far too often, public schools fight to keep these students within district citing the benefits of normalization and inclusion in their programs. Their argument begins with students should be in the "least restrictive" setting, and taught with "normal" or non-special education peers.
The observations of The Glenholme School are different from other schools. By the time a complex and fragile student applies to enroll in Glenholme, they have neither had a "normal" experience, nor have they been included. Their experiences are quite to the contrary; these students have been teased, bullied, excluded, and made to feel hopeless by their peers. They are not invited to social events, nor do they have the opportunities to participate in the extracurricular activities like their classmates. Why? Because their "normal" peers simply do not accept or include them.
At The Glenholme School, there is an emphasis on a normalized and inclusive education that is vastly different from public school systems. Many students have their first opportunity to participate in team sports or to be a part of the school musical. Within the school setting at Glenholme, which is carefully designed for young people with special needs, all students have the opportunity to practice social skills with accepting peers and adults. In-the-moment coaching of social and emotion regulation skills is provided in naturally occurring settings such as soccer practice or play rehearsal. Since students at Glenholme are learning socially in a slower gear, they are not equipped to be in the fast lane of a public school setting. The social coaching and instruction provided in the public school setting would lead to further alienation and isolation, while the coaching provided in an environment where everyone receives it, makes it normalized.
Students truly value their opportunities at The Glenholme School. When asked to reflect about her experiences while attending the school, a graduate of Glenholme's Class of 2014 passionately revealed, "I really appreciate Glenholme, particularly for the common thread that all students share, strengthening everybody's understanding for each other and as a result providing acceptance and support. Every student is gifted creatively wise, but other gifts, the ones that brought us to the school, which would normally be social barriers at other schools, are embraced at Glenholme. "
The Glenholme School, a center of the Devereux organization, is a therapeutic boarding school for young people with high functioning autism spectrum disorders including Asperger's; as well as ADHD, PDD, OCD, Tourette's, depression, anxiety, and various learning differences. The program provides a treatment milieu designed to build competence socially and academically. The school's learning environment supports and enhances the ability for young people with special needs to succeed. Devereux is a leading nonprofit behavioral health organization that supports many of the most underserved and vulnerable members of our communities. For more information about The Glenholme School and its program, visit http://www.theglenholmeschool.org/. Devereux Connecticut.