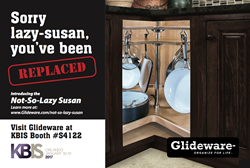 We are confident the Not-So-Lazy Susan will be a product homeowners will love.
Grand Junction, Colorado (PRWEB) December 07, 2016
Glideware has once again set the standard for kitchen cabinet solutions. The company that creates innovative accessories that "Organize for Life™" is releasing its newest product the Not-So-Lazy Susan, January 10, 2017.
Unlike current Lazy Susan accessories, the Not-So-Lazy Susan maximizes storage in the largest cabinet in the kitchen, the corner cabinet. Now homeowners can easily store all their cookware in an organized manner.
Glideware Owners and Product Developers, Dave and Jenny Hall, created the Not-So-Lazy Susan to provide customers with a simple organizing solution that would protect cookware from scratches. The Not-So-Lazy Susan provides fingertip access for cooking and gives customers the opportunity to free up a lot of wasted cupboard space. "Providing innovative, organizing solutions is what our company does best," said Dave. "When all of our customers kept complaining about their wasted corner cupboard space we knew we had a new challenge. It was surprising to us that no one has been successful at presenting a better option."
The Not-So-Lazy Susan definitely offers customers a better option. This product maximizes space with an upper organizer and a lower storage shelf, secures cookware handles with a mid-level arrester and delivers long-term maintenance-free operation with its self-adjusting Quick-Fit hardware, an industry first. Adjustable hooks are installed with Glideware's Press Fit™ system to keep hooks in place and keep customer's cookware stable while in use. With easy retrofit options, the Not-So-Lazy Susan can be installed into existing corner cabinets, transforming any wasted corner cupboard into useful kitchen storage.
Glideware plans to release the Not-So-Lazy Susan at North America's largest kitchen and bath show, KBIS, January 10 -12, 2017. As previous winners of a Best of KBIS award in 2014, Glideware is excited to continually provide the kitchen industry with new and exciting products. "Many of our products are already being featured in cabinet dealer's showrooms and homes across the country," said Jenny, "We are confident the Not-So-Lazy Susan will be a product homeowners will love."
Watch the product release live by following Glideware on Facebook. Tune in for live product demonstrations featuring Dave and Jenny Hall on the 2017 KBIS show floor. For customers attending the upcoming show in Orlando, visit booth #S4122 for information and product reviews. For additional product information or to pre-order the Not-So-Lazy Susan, visit http://www.glideware.com/not-so-lazy-susan