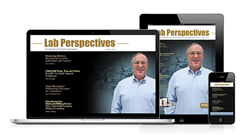 Lab Perspectives is a helpful ally for achieving reliable laboratory growth in the digital age.
Newport Beach, CA (PRWEB) November 10, 2014
Glidewell Laboratories, industry-leading provider of dental laboratory products and services, announced today that the latest issue of Lab Perspectives™ magazine, its multimedia publication focused on the dental laboratory industry, is now available in print and across multiple digital platforms. The digital edition of the new issue, Volume 1, Issue 3, can be viewed from all popular desktop, tablet and smartphone platforms by visiting http://www.labperspectives.com.
The featured Q&A spotlights Larry Weiss, president of Keller Laboratories. The 66-year-old company, founded by George Keller, has grown from a single facility in downtown St. Louis, Missouri, to multiple facilities across the Midwest that now service the entire United States by mail. Read the article to learn how Weiss radically expanded his lab's profitability and reach after Keller was acquired by National Dentex Corporation, as well as how joining the Authorized BruxZir™ Laboratory program has further compounded that growth.
The issue also introduces the Glidewell Milling Center, an affordable outsourcing solution that allows labs of all sizes to gain access to laboratory-proven digital workflows. General manager Sunny Chung discusses how the CAD/CAM technologies employed at Glidewell Laboratories have transformed protocols and enabled a cutting-edge offering of services. Demonstrating that precision restorations aren't cost-prohibitive, this article promises an insightful exploration into the host of options available to labs who want to break into digital dentistry.
Other highlights include an extensive exploration of the digital design process for the BruxZir® Solid Zirconia Full-Arch Implant Prosthesis in 3Shape DentalDesigner™ with CAD/CAM specialist Alec Di Lullo. An article by in-house counsel for Glidewell Laboratories Gary Pritchard, J.D., delineates the IRS guidelines to help employers classify workers as either independent contractor or employee, potentially protecting companies from penalties. Don Albensi of Albensi Dental Laboratories details how investing in CAD/CAM equipment can bring casework back to the United States for labs who have previously outsourced to developing nations.
Lab Perspectives magazine is published by Glidewell Laboratories and President/CEO Jim Glidewell, CDT. Each issue examines various aspects of the lab industry from both the business and technical perspectives. Featuring exclusive interviews with some of the most trusted names in the industry, step-by-step technical procedures and business management tips, Lab Perspectives is a helpful ally for achieving reliable laboratory growth in the digital age.
To view the new Lab Perspectives magazine digital edition from your desktop computer or favorite mobile device, and to sign up for a free subscription to the print version, visit http://www.labperspectives.com. For more information about Lab Perspectives magazine, call 844-237-2839 or email labperspectives(at)glidewelldental(dot)com.