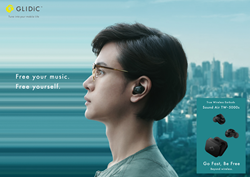 TOKYO (PRWEB) November 09, 2019
Japanese IT and communications pioneers SB C&S corp. today has announced the introduction of the GLIDiC Sound Air TW-5000s True Wireless Earbuds to the US market. GLIDiC's newest in audio innovation delivers Natural and Pleasant Sound Experience and multi-communication capabilities for music lovers looking for an unparalleled listening experience.
The Sound Air TW-5000s boasts advanced features not found anywhere else in the market, including a multi-communication mode, voice calling with audio capabilities in both ears, and long-lasting standby times lasting up to 60 days, up to four times longer than GLIDiC's TW-5000 model.
Sound
While many earbuds on the market have noise cancelling capabilities, this functionality can cause users to miss important announcements and environmental sounds. The TW-5000s model's multi-communication mode offers added convenience and safety for users by allowing in select environmental sounds such as train announcements and vehicle sounds. The multi-communication mode allows in these environmental sounds without compromising exceptional audio quality.
In another innovative move, GLIDiC has crafted the TW-5000s earbuds with user satisfaction in mind by creating a product that allows wearers to hear sounds from phone calls in both ears instead of just one, enhancing the user experience.
Battery Life
The TW-5000s earbuds feature extended battery life compared to the TW-5000 model. When in standby mode and stored in their case, listeners can enjoy up to 60 days of battery standby time, an improvement of nearly four times the battery life of GLIDiC's previous model.
Stress-Free Wearability
GLIDiC's TW-5000s model provides a completely wireless experience with a comfortable fit. With an ergonomic design that fits snugly within the ear thanks to the product's Ultra Multi-Fitting design, the inconspicuous ear buds provide high-quality sound with the convenience of a completely hands- and wire-free audio experience.
Intuitive Multi-Function Buttons
Housed within the ergonomic ear bud units are multi-function buttons that allow users to easily control their listening experience. Both ear buds feature a multi-function button that that allows complete control of audio while listening to music, accepting or making a phone call, adjusting the volume, or activating and controlling the unit's voice assistant. The accompanying product manual highlights the multi-function button commands.
Award-Winning Design
GLIDiC earbuds have received accolades from a number of industry experts and publications. In 2018, GLIDiC products were awarded the Chicago Good Design Award (https://www.good-designawards.com/award-details.html?award=32997) for sleek, professional style and exceptional functionality. The brand also received the Red Dot Design Award in 2018 for its compact earbud designs paired with suburb comfort. Additional accolades have come for the brand as they were named a Japan Audio Visual Awards Gold winner in the summer of 2019.
Pricing and Availability:

The Sound Air TW-5000s will be available in black, white, or champagne gold for $99.99 (USD).
Availability will begin in the US on 8th Nov, 2019, available in Sprint Stores and Sprint.com
Media
To learn more about GLIDiC and all of its products, including the Sound Air TW-5000s, visit https://glidic.jp/us/.
YouTube
https://youtu.be/V328kKa9cNg