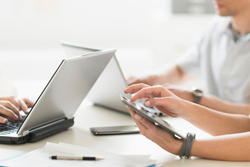 Online courses are an ideal format for remote learning, accommodating the work schedule of today's professionals.
MONTREUX, Switzerland (PRWEB) January 08, 2019
Glion Institute of Higher Education, a world-leading hospitality management institution with campuses in Switzerland and the UK, is launching a new set of online certificate courses, available from March 2019.
In response to new training requirements and learning preferences among executives in the field of hospitality management, Glion has devised a series of online courses on spa management, revenue management and hotel valuation, delivered by leading experts in their respective fields.
Courses occur four times per year and span two weeks, with 4 to 6 hours of personal effort per week, including videos, readings, discussions, peer-reviewed assignments, quizzes and a final exam.

Maximizing Spa Profitability and Excellence in Spa Operations are taught by Glion faculty member Mariana Palmeiro and leading spa and wellness expert Dr Mary Tabacchi on the financial and organizational aspects of spa management, a particular growth area in the hospitality industry.
Revenue Management: The Strategy and Tactics of Hotel Room Pricing, delivered by Dr Breffni Noone of Pennsylvania State University's School of Hospitality Management, explores the role of room pricing to maximize profit.
Hotel Market Analysis and Valuation teaches market research, data analysis and financial planning and is delivered by Steve Rushmore, founder of global hospitality consulting organisation HVS.
"We see a change in the need of training of mid-career hospitality professionals," says Cécile Rébillard, Head of Digital Education at Glion. "As the industry is consolidating in more mature markets, middle managers are looking to build their expertise in specific business topics to advance their careers."
The new Glion online courses are hosted by FutureLearn, The Open University's online education platform offering courses from organisations such as King's College London, Monash University, the British Council and Accenture.
Dr Pierre Ihmle, Chief Academic Officer at Glion's parent company Sommet Education, said: "This latest academic offer shows our commitment to prepare and equip the present and future hospitality leaders with the skills and knowledge to succeed. Online courses are an ideal format for selective and remote learning, accommodating the work schedule of today's professionals."
For more information and to register for Glion's online certificate courses, please go to http://www.glion.edu/online-education
About Glion Institute of Higher Education
Founded in 1962, Glion Institute of Higher Education is a private Swiss institution offering bachelor's and master's degrees in hospitality, luxury and event management to an international student body across three campuses in Switzerland and London, UK. Glion also offers a dual-degree MBA and MSc programme in partnership with Grenoble Ecole de Management.
Part of Sommet Education, Glion is accredited by the New England Commission of Higher Education (NECHE). Glion is ranked number five of the world's top institutions for hospitality and leisure management and number one worldwide for employer reputation (QS World University Rankings by Subject 2018).
For more information, visit http://www.glion.edu