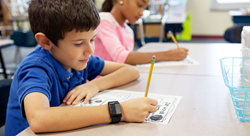 "This technology fills a void that has existed in the education space for some time now. The upcoming Revibe Connect will do for behavior, what DIBELS did for reading: provide important data necessary to make informed decisions." Hazel Wheldon, President
WAKE FOREST, N.C. (PRWEB) July 18, 2018
Revibe Technologies, the manufacturer of Revibe Anti-Distraction Wristwear, announced a strategic partnership with Multi-Health Systems (MHS) as part of a recent funding round. As part of the transaction, MHS President Hazel Wheldon has joined the Revibe Technologies' Board of Directors. Other investors include CoFounders Capital, Bootstrap Advisors, BioVenture Partners, Tamiami Angel Fund, Charlotte Angel Fund, RTP Capital, and Blount Street Capital.
President of MHS, Hazel Wheldon shared, "We are thrilled to establish a strategic partnership with such a cutting-edge wearable platform like Revibe. This technology fills a void that has existed in the education space for some time now. The upcoming Revibe Connect will do for behavior, what DIBELS did for reading: provide important data necessary to make informed decisions". She went on to share, "This partnership is particularly exciting as it will allow for our companies to work together to help propel new advances in wearable technology into the marketplace to help change the way we collect and utilize data".
Revibe® is a reminder vibration wristband designed to help students maintain self-awareness so they may redirect themselves when they drift off-task. The overall goal of the Revibe® is to empower children with a quiet vibration reminder to get back to work so they do not have to rely on teachers or parents for prompts.
In the past year, Revibe received funding from the US Department of Education, NC Dept. of Commerce, and the the Kenan Institute of Engineering, Technology and Science to fund research and development of the Revibe platform.
Revibe was invented by Rich Brancaccio, a former Wake County School Psychologist and now Revibe Technologies C.E.O. Rich spent most of his career specializing in ADHD and Autism, and invented Revibe to offer parents and teachers a noninvasive option for kids with distractibility issues. It is estimated that one in five children in the United States struggle with focus and attention.
"We are beyond excited about the investment and partnership with MHS," Revibe Founder and CEO, Rich Brancaccio, said. "MHS is a global leader in scientifically-validated assessments. The experience and expertise that comes from developing tools such as the Conners suite of ADHD assessments is exactly what we need informing the development of our products as we break new ground in the educational arena." Brancaccio went on to add, "This partnership is a huge step forward in our quest to leverage technology to empower those who face unique challenges."
About Revibe Technologies: Revibe Technologies, Inc., formerly known as FokusLabs Behavioral Solutions, Inc, is a North Carolina based company dedicated to helping children and adults overcome obstacles faced in the classroom and workplace by fusing psychology with technology. Its flagship product is Revibe, a reminder wristband that reminds users to stay on-task in classrooms, at home, or in office settings. Revibe is available for purchase at http://revibetech.com and Amazon.com.
About Multi-Health Systems: MHS aligns extensive scientific research and powerful data with innovative technologies to create, market, and sell leading assessments that help inform critical decisions in mental health and education. MHS has developed leading products such as the Conners suite of ADHD assessments, the Level of Service suite of assessments, and the Emotional Quotient Inventory (EQ-i 2.0®). Trusted to help users accurately assess, evaluate, and improve performance in over 75 countries, MHS assessments help people around the world reach their full potential. For more information, visit http://www.mhs.com.