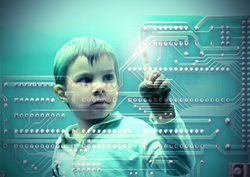 One interesting pattern in the M&A activity is the acquisitions made by very large education publishers like Wiley, McGraw-Hill, Pearson, Houghton Mifflin Harcourt, Daekyo, Elsevier, Follett, Cornerstone, VitalSource, and Course Hero and by tech giants like Google, Microsoft, SAP, and IBM..
MONROE, Wash. (PRWEB) November 10, 2020
According to a new report by Metaari called, "The 2021-2026 Worldwide AI-based Learning Market", the five-year compound annual growth rate (CAGR) for the global AI-based Learning market is a robust 32.8% and revenues will more than quadruple to $34.9 billion by 2026. The report will be available on December 2, 2020.
The major revenue opportunities are in the corporate segments and the federal government agencies across the planet. The revenues are heavily concentrated in North America and the Asia Pacific. The demand is high and the barriers-to-entry are falling fast.
Suppliers no longer have to develop expensive proprietary AI but instead "rent" AI from cloud-base AI vendors (like IBM Watson) and buy relatively inexpensive premade and pretrained components in the growing number of online marketplaces. Startups are now able to get to market very quickly.
Metaari has revised our AI-based Learning revenue forecasts significantly upward from previous forecasts. The rapid uptake of AI-based Learning coincides with the rapid evolution of AI technology in general. The competitive landscape is fundamentally different than it was a little over two years ago.
Legacy suppliers are "buying their way in" via acquisitions of AI-based Learning startups. For example, in January 2020, Cornerstone OnDemand (one of the largest legacy eLearning suppliers on the planet), announced it had acquired Clustree, "a French technology company that developed an industry-leading, AI-powered skills engine and extensive skills ontology." There are dozens of recent M&A activities cited in this report.
One interesting pattern in the M&A activity is the acquisitions made by very large education publishers like Wiley, McGraw-Hill, Pearson, Houghton Mifflin Harcourt, Daekyo, Elsevier, Follett, Cornerstone, VitalSource, and Course Hero and by tech giants like Google, Microsoft, SAP, and IBM. These companies now see the significant revenue opportunities in the booming AI-based Learning market and have effectively "bought their way in". Intense M&A activity is often a sign of consolidation but that is not the case (yet) in the global AI-based Learning market.
Well-funded startups are coming on the market at a rapid rate. Hundreds of new AI-based Learning suppliers have entered the market since 2018. Virtually all of the 700 suppliers cited in this report have obtained private investment in the last two years.
Due to the extraordinary global (and rapid) innovations in robotics, AI, biometrics, and cognitive computing and the ongoing advances in educational neuroscience and educational psychology, it is quite likely that the market will look very different by the end of the forecast period.
The integration of artificial intelligence (AI) into digital learning experiences essentially accomplishes the "holy grail" of providing true personalized learning that adapts in real time to an individual user's cognitive abilities. Personalized learning has long eluded learning technology suppliers despite the claims to the contrary. Artificial intelligence finally provides the technology to achieve true personalized learning. This is a long-awaited achievement in the training and education industry.
The global AI-based Learning market is in a state of fluctuation characterized by exponential innovation and the avid adoption by all the buying segments. Perhaps the most significant innovations are the use of facial and speech recognition, emotion detection, and conversational artificial intelligence (a major component of Natural Language Processing, or NLP). The advances in AI-based chatbot technology (particularly conversational AI's) are major backdrops in the current market. The market conditions are very favorable for suppliers.
Many developers are building out AI-based Learning products on top of IBM Watson's cloud-based platform including Pearson, Apple, Blackboard, Scholastic, Sesame Street, Edmodo (now owned by China's NetDragon) and Houghton Mifflin Harcourt.
Watson is not the only AI platform being used for AI-based Learning. Cerego's adaptive learning platform runs on Amazon's AI. Pearson uses Microsoft's AI platform for their adaptive Longman English language learning products. Montessorium's popular games for young kids runs on Google's TensorFlow AI.
There are four sections in this report: and overview of the current market, a detailed analysis of the ten major catalysts driving the market, a demand-side analysis, and a supply-side analysis. The demand-side analysis provides revenue forecasts for six buying segments for all regions combined.
The supply-side analysis provides five-year revenue breakouts for three types of commercial AI-based Learning products and services: retail pretrained packaged AI-based Learning units, custom development services, and AI-based Learning authoring tools and platforms. Packaged content is further broken out by ten content categories and platform revenues are broken out for nine tool types.
About Metaari
Metaari (formerly Ambient Insight) is an ethics-based quantitative market research firm that identifies revenue opportunities for advanced learning technology suppliers. We track the learning technology markets in 126 countries. We have the most complete view of the international learning technology market in the industry. Metaari focusses solely on advanced learning technology research on products that utilize psychometrics, neuroscience, location intelligence, game mechanics, robotics, cognitive computing, artificial intelligence, virtual reality, and augmented reality.