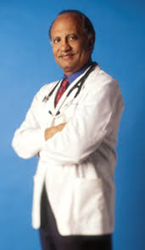 LOS ANGELES (PRWEB) July 22, 2020
Dr. Fouad Ghaly, founder, Ghaly Center for Regenerative Medicine ("GhalyMD") and Gregory DiRienzo, founder CoNexus Cancer Centers ("CoNexus Cancer Centers") now offer late stage 4 cancer patients a novel treatment designed to aggressively shrink late stage tumors, setting the stage for tumor ablation within weeks of commencement. Dr. Ghaly says "All advanced cancer patients can now benefit from CoNexus Cancer Care, regardless of their stage of cancer."
DiRienzo says, "CoNexus physicians, practicing outside the U.S. have used this unique protocol to safely and effectively debulk hundreds of late stage tumors for over the last thirty years."
According to Dr. Ghaly, "This unique tumor-busting therapy cannot only shrink or eliminate aggressive large tumor loads within weeks of starting treatment, but also clear surrounding tissue from potential microscopic cancer spread."
DiRienzo points out that "CoNexus Care was designed to serve three important functions":

Greatly reduce or destroy late stage or "inoperable" tumors without causing collateral damage to surrounding tissue.
Hinder cancer cells from spreading (metastasis) by administering systemic autologous tumor antigens designed to enhance cancer cell death (apoptosis), and
Enhance immune cell response (dendritic cancer vaccine) to better identify evasive cancer cells, which can hamper or even stop progressive tumor growth.
Cancer treatment centers are conveniently located within greater Los Angeles, CA and nearby Baja California, providing highly trained and board-certified physicians for employing safe and effective therapies designed to destroy cancerous tumor cells without compromising the patient's quality of life. CoNexus Cancer Center physicians have practiced in multiple global settings, including Germany, United States, Canada, Cuba, South Korea and Mexico.
For Further Information:
Gregory DiRienzo
Chief Executive Officer
CoNexus Cancer Centers America
Email: contact@conexuscancercenters.com
001.949.939.0050
(http://www.conexuscancercenters.com)
(http://www.ghalymd.com)