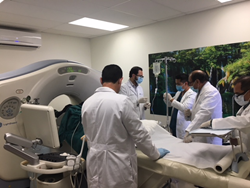 Save Your Liver - Save Your Life
SAN DIEGO (PRWEB) October 09, 2018
Gregory DiRienzo, CEO of Integrative Cancer Centers of America (http://www.iccahelp.com) announces the introduction of CoNexus Care, a personalized, neo-adjuvancy treatment program used to treat deadly metastatic liver cancers.
Integrative Cancer Centers' chief oncologist, Salvador Vargas, MD says, "ICCA physicians, practicing outside the United States have used this unique treatment protocol to safely and effectively treat thousands of metastatic liver cancer patients over the last 30 years."
According to Vargas, "these unique tumor-busting therapies were developed to significantly reduce, shrink or even destroy aggressive metastatic tumor loads within weeks of commencing the minimally-invasive treatment protocol."
Integrative Cancer Centers' CMO, Hebert Schramm, MD, adds CoNexus Care was formulated to reduce large tumor loads and clear tissue surrounding the tumors from life-threatening microscopic cancer cell spread. Dr Schramm is insistent that, "tumor ablation be precisely timed, in order to achieve the peak benefits derived from CoNexus Care, and provide enough time for the patient to restore optimum health."
Dr. Vargas points out that CoNexus Care serves three vitally important functions:

Greatly reduce or destroy late stage or "inoperable" metastatic liver tumors without causing collateral damage to surrounding tissues.
Hinder cancer cells from spreading (metastasis) by administering systemic autologous tumor antigens designed specifically to enhance cancer cell death (apoptosis), and;
Enhance Immune Cell Response by administering systemic dendritic cancer vaccine designed specifically to better identify evasive cancer cells. This can help destroy, hamper or even reverse progressive tumor growth.
Liver metastases are tumors that have spread to liver from other areas of the body. Cancer cells have aggressive tendencies and can invade other tissues and organs - usually by floating in the blood stream and replicating in new places. The liver, in particular, provides fertile ground for metastatic spread because of its rich blood supply and presence of humoral factors for promoting cell growth.
For Further Information:
Gregory DiRienzo
Chief Executive Officer
Integrative Cancer Centers of America
800.205.8101
(http://www.iccahelp.com)
(http://www.livercancercentersofamerica.com)
(http://www.fightwithnewhope.com)