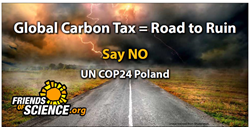 Fourth National Assessment report and the IPCC SR15 are irresponsible fearmongering based on faulty science and computer simulations, as discussed in "Faulty Premises=Poor Public Policy on Climate Change," a new report by Friends of Science
CALGARY, Alberta, Canada (PRWEB) November 28, 2018
Friends of Science Society has launched a new billboard campaign stating that a "Global carbon tax is a road to ruin," out of concern as to what may be implemented as the 'rule book for Paris Agreement' at the UNFCCC COP24 climate change conference in Katowice, Poland, Dec. 2-14, 2018. Terrifying headlines generated by the Black Friday release of the Fourth National Assessment Report, such as that of CNN on Nov. 26, 2018, saying "Climate change will shrink US economy and Kill Thousands…" and the IPCC SR 15 report of Oct. 8, 2018, are irresponsible fearmongering based on faulty science and computer simulations, as discussed in "Faulty Premises=Poor Public Policy on Climate Change," a new report by Friends of Science.
Around the world, citizens are rejecting climate and carbon tax policies, seen in recent demonstrations of the "yellow vests/gilets jaunes' in France, as reported by BBC, Nov. 18, 2018. The "Yellow Vests" populist movement motto is "The elite are afraid of the end of the world, we are afraid of the end of the month."
In Australia, a new group, The Saltbush Club, is demanding that Australia get out of the Paris Agreement. As reported by the Japan Times, Nov. 1, 2018, Brazil's president elect, Bolsonaro, has threatened to follow in President Trump's footsteps and pull out of Paris.
Behind the scenes, few people are aware of the influence of major funded Environmental Nongovernmental Groups and the role of the ClimateWorks Foundation billionaires, who have been funding ENGOs around the world for >$600 million a year for a decade to push climate catastrophe hype. Since 2005, the ClimateWorks partners divided the world into five regions and began pushing their plans for a global cap and trade system and to put $12 trillion in renewables on the power grid, as revealed in the ClimateWorks Podesta Wikileaks. The essence of much of this plan is confirmed in a May 22, 2018, peer-reviewed paper by Matthew Nisbet.
Influential groups like the World Council for Sustainable Business Development, the UNPRI and the CDP Worldwide are climate obsessed, says Friends of Science, but operating on climate science assumptions of 2002, which are out-of-date since the 15-year 'hiatus' in global warming (despite a significant rise in carbon dioxide), reported by the IPCC in 2013. Climate models did not forecast this 'pause.' This is a material change that should be reported to investors.
Rapid decarbonization (abandoning the use of oil, gas and coal) is a central feature of recent climate change reports, but this would cause mass deaths, according the Prof. Michael J. Kelly of Cambridge in a power point of 2010. With no suitable alternative and no cost-benefit analysis in these reports, Friends of Science says this is therefore an immoral and irresponsible recommendation.
A global carbon tax law, as promoted by certain influential activist scientists, such as Rockstrom et al (2017) is a road to ruin, says Friends of Science, noting that such a law would create prejudicial scenarios for Canada in particular, and poses a threat to democracies everywhere.
A second Friends of Science billboard features a comparative image of the sun and earth, asking people to consider "Climate – Change Your Mind. Is it you? Is it really CO2?"
About
Friends of Science Society is an independent group of earth, atmospheric and solar scientists, engineers, and citizens who are celebrating its 16th year of offering climate science insights. After a thorough review of a broad spectrum of literature on climate change, Friends of Science Society has concluded that the sun is the main driver of climate change, not carbon dioxide (CO2).
Friends of Science Society
P.O. Box 23167, Mission P.O.
Calgary, Alberta
Canada T2S 3B1
Toll-free Telephone: 1-888-789-9597
Web: friendsofscience.org
E-mail: contact(at)friendsofscience(dot)org
Web: climatechange101.ca