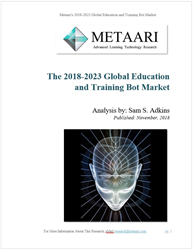 "This is the most comprehensive report on the global Educational Bot market ever published. We identify over 300 Educational Bot companies operating across 126 countries. Startups continue to come on the market at a rapid rate."
SEATTLE (PRWEB) November 04, 2019
Revenues for Educational Bot products and services will more than quadruple to $4.1 billion by 2023 according to a recent market report by Metaari called "The 2018-2023 Worldwide Educational Bot Market". The current Educational Bot market is a booming industry and the revenue opportunities are abundant in every region of the planet.
"This is the most comprehensive report on the global Educational Bot market ever published," comments Sam S. Adkins, Metaari's Chief Research and author of the report. "We identify over 300 Educational Bot companies operating across 126 countries. Startups continue to come on the market at a rapid rate."
The major global catalysts across the planet include a spike in private investment going to Educational Bot companies, the growing use of robots to teach people with special needs, the high consumer demand for robots designed to teach kids coding, the growing use of Educational Bots in the academic segments, the uptake of social companion tutoring robots, the availability of sophisticated Ai-based robots, the rapid uptake of customer service robots in the corporate segment, and use of so-called guide robots in museums, airports, hotels, corporate lobbies, and tourism sites.
Elearning! Magazine is the exclusive reseller of Metaari's 2018-2023 Worldwide Education Bot report. The free Executive Overview and purchasing information can be found here:
http://www.2elearning.com/research/
The report has 191 pages, 21 forecast tables, and ten figures. The report's organizational license is available for sale at $2,475.00 USD.
There are three sections in this report: a deep-dive analysis of the major catalysts driving the market, a demand side-analysis, and a supply-side analysis. The analysis of the catalysts provides a detailed discussion of the eight major catalysts driving the global Educational Bot market.
The demand-side analysis breaks out five-year revenues forecasts for seven international regions and by six buying segments. Five-year forecasts are provided for seven regions: Africa, Asia Pacific, Eastern Europe, the Middle East, Latin America, North America, and Western Europe.
"The global commercial Educational Bot market is in a state of flux characterized by high demand, rapid advancement in technology, exponential innovations, and the avid adoption by all the buying segments," reports Adkins. "The barriers-to-entry are declining at a steady rate primarily due to new business models such as Robotics-as-a-Service (RaaS). The market conditions are very favorable for suppliers."
The demand-side analysis includes five-year forecasts for six buying segments: consumers, PreK-12 schools, tertiary & higher education institutions, local/state/provincial/prefecture government agencies, federal government agencies, and corporations & businesses.
The supply-side analysis provides revenue forecasts for three types of commercial Educational Bots products and services: retail robots sold by unit or by subscription (Robotics-as-a-Service), custom educational development services, and tools and platforms designed to program Educational Bots.
The report identifies six distinct types of Educational Bots: robots designed for Robot-Mediated Behavior Intervention (RMBI) therapy for people with special needs, early childhood learning tutoring robots, STEM and language learning tutoring robots used in the two academic segments, information guide robots (used in public venues, exhibitions, tourist venues, airports, hospitality businesses, retail outlets, government offices, and virtual helpdesks), social companion elderly cognitive care robots, and self-learning AI-based tutoring robots. This report analyzes the demand for physical education robots and virtual tutoring bots.
"This report identifies specific buyers by company name and their location providing suppliers with potential sales leads," comments Adkins. "This provides invaluable insight on the top buyers across the globe, the types of Educational Robots products they buy, and the suppliers that are meeting the demand from these buyers."
In the current global market, there is a very large (and growing) consumer demand for Educational Bots for young children and a strong corporate demand for so-called informational guide service robots. Educational Bots designed for young children are approaching a mass market phase.
"Prices for components, sensors, and software are falling at a steady rate and robotics technology is advancing at a rapid pace. Perhaps the most significant innovations are the use of facial recognition, voice recognition, emotion detection, and artificial intelligence in robots," adds Adkins. "AI-based Educational Bots range from smart toys, to personalized customer service robots, to emotionally-aware therapeutic robots. In general, the more advanced programmable humanoid robots are still quite expensive. But even these products are falling in price."
About Metaari
Metaari (formerly Ambient Insight) is an ethics-based quantitative market research firm that identifies revenue opportunities for advanced learning technology suppliers. We track the learning technology markets in 126 countries. We have the most complete view of the international learning technology market in the industry. Metaari focusses solely on advanced learning technology research on products that utilize psychometrics, neuroscience, game mechanics, robotics, cognitive computing, artificial intelligence, virtual reality, and augmented reality.