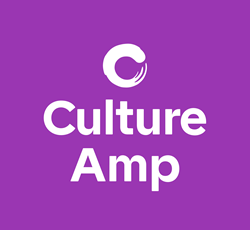 The successful companies of today, and tomorrow, are laser focused on delivering a better employee experience to drive business performance.
SAN FRANCISCO and NEW YORK and LONDON and MELBOURNE, Australia (PRWEB) July 29, 2021
Culture Amp, the world's leading employee experience platform, announced today a valuation of over USD$1.5 billion through a recent USD$100 million Series F funding round. Culture Amp helps organizations modernize their approach to employee engagement and performance management delivering the platform, insights and suggested actions at over 4,000 organizations globally.
TDM Growth Partners (TDM) and Sequoia Capital China led the round, with participation from new investor Salesforce Ventures and existing investors Felicis Ventures, Blackbird Ventures, Index Ventures, Sapphire Ventures, Skip Capital, Grok Ventures and Global Founders Capital.
Since 2011, Culture Amp has pioneered the application of behavioral science and data analytics across the employee lifecycle to help organizations humanize the performance management process and invest in the growth and development of their people. In an environment of rapid change, and with a massive increase in hybrid and remote work, Culture Amp provides organizations with the data they need to rapidly iterate the experience they are delivering to their employees.
"With this strategic round of funding, we will empower more organizations and people leaders to unlock the power of humanity at work, as the industry's single most trusted place for all of their employee experience needs," said Didier Elzinga, CEO and co-founder of Culture Amp. "The successful companies of today, and tomorrow, are laser focused on delivering a better employee experience to drive business performance."
Hamish Corlett, co-founder of TDM Growth Partners (TDM) said, "Organizations are living in a world of unprecedented change, and the last 12 months have only accelerated this. We have seen first hand the power that Culture Amp's unrivalled data set and unique insights can have inside boardrooms globally, and we expect this only to amplify in coming years."
"Culture Amp has enabled over 4,000 organizations to embrace our core belief as investors that people and culture are fundamental to driving long term competitive advantage and success. We will look back in the decades to come and see it was these businesses that were early adopters in understanding this."
Steven Ji, Partner of Sequoia Capital China said, "As the trailblazer in employee experience, Culture Amp is charting a path forward for organizations to succeed in the new world of work with data-driven insight. Culture Amp has the purpose, leadership and the ability to truly impact people's lives and we're excited to see what they will achieve in this next stage of growth and beyond."
Rob Keith, Head of Australia, Salesforce Ventures added, "Culture Amp is the clear leader in employee experience, and as a customer for many years we've seen first hand the power of the Culture Amp platform to drive meaningful change in the workplace. We seek to invest in the most innovative cloud companies and founders, solving the world's most pressing challenges globally - Culture Amp is at the forefront of driving positive behavior change at work and we look forward to contributing to the company's continued growth and success."
About Culture Amp
Culture Amp revolutionizes how over 25 million employees across 4,000 companies create a better world of work. As the global platform leader for employee experience, Culture Amp empowers companies of all sizes and industries to transform employee engagement, develop high performing teams, and retain talent via cutting-edge research, powerful technology, and the largest employee dataset in the world. The most innovative companies across the globe, such as Salesforce, Unilever, PwC, KIND, SoulCycle, and BigCommerce depend on Culture Amp everyday.
Culture Amp is backed by 10 years of innovation, leading capital venture funds, and offices in the U.S, U.K, and Australia. Culture Amp is recognized as one of the world's top private cloud companies by Forbes and one of the most innovative workplace companies by Fast Company.
Learn more about how Culture Amp can help you create a better world of work at cultureamp.com.
About TDM Growth Partners
TDM Growth Partners is a global investment firm with offices currently in Sydney and New York. TDM invests in fast growing companies run by passionate management teams. Our unique and flexible mandate allows us to invest in public and private companies globally. TDM operates on long-term time horizons, and a commitment to help build businesses we're proud of. We have a highly focused approach to investing, with a portfolio of no more than 15 investments globally. TDM has the ability to deploy capital up to $200 million per investment. More information at http://www.tdmgrowthpartners.com.
About Sequoia China
The Sequoia team helps daring founders build legendary companies. In partnering with Sequoia, companies benefit from our unmatched community and the lessons we've learned over 49 years. As "The Entrepreneurs Behind the Entrepreneurs," Sequoia China focuses on three sectors: TMT, consumer/services and healthcare. Over the past 16 years we've had the privilege of working with approximately 600 companies in China.
More information at http://www.sequoiacap.com/china/en/
About Salesforce Ventures
Salesforce is the global leader in Customer Relationship Management (CRM), bringing companies closer to their customers in the digital age. Salesforce Ventures, the global investment arm of Salesforce, invests in the next generation of enterprise technology that extends the power of the Salesforce Platform. Salesforce Ventures is building the world's largest ecosystem of enterprise cloud companies and extending that technology to customers. Portfolio companies receive funding, strategic advisory, and operating support, and can easily join Pledge 1% to make giving back part of their business model. Salesforce Ventures has invested in more than 400 companies, including DocuSign, GoCardless, Guild Education, nCino, Twilio, Zoom, and others across 22 countries since 2009. For more information, please visit http://www.salesforce.com/ventures.