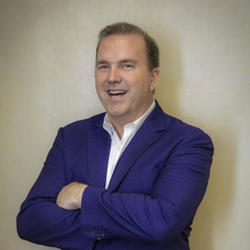 "It is truly a wonderful honor for me to be on a list with other luminaries from the business coaching field. My passion is to empower small business owners and entrepreneurs to create focused and well-thought plans for their own success stories."
CHICAGO (PRWEB) September 08, 2020
Known as America's Small Business Expert®, Bill Walsh can count himself among good company with well-known thought leaders such as Tony Robbins and Jack Canfield.
Walsh, a venture capitalist and founder of the Chicago-based Powerteam International, one of the leading success education companies, was recently named as one of the "World's Top 30 Coaching Professionals for 2020" by Global Gurus, a research organization that finds and highlights thought leaders and teachers from around the world. He and others were celebrated during the organization's online summit in late August.
"It is truly a wonderful honor for me to be on a list with other luminaries from the business coaching field," Walsh said "My passion is to empower small business owners and entrepreneurs to create focused and well-thought plans for their own success stories."
Through Powerteam International, Walsh helps clients through various programs such as the Rainmaker Summit, a comprehensive weekend designed specifically to help participants create a clearly defined 24 Month Success Blueprint for their lives and businesses; The Icon Speaker Program to train those interested in developing public speaking careers and the WIN Global masterminds program to allow leaders to come together and work on solutions to elevate each other.
"One of the things that I like to emphasize to my clients is to always eliminate the negative influences in their lives," Walsh said. "Their words and thoughts can control people to the point where they set up themselves for failure. We want business owners and entrepreneurs to discard that negativity and believe and bring their talents to market where they can shine in their successes."
For information about Bill Walsh, visit http://ipowerteam.biz/.
About Bill Walsh:
Bill Walsh a venture capitalist and is the CEO/Founder of the Success Education/Business Coaching firm Powerteam International. Bill hosts and speaks at events all over the world! His passion is to empower entrepreneurs and business owners to create massive success. He is the best selling author of the book "The Obvious", is an amazing speaker, radio personality and movie celebrity. He has a very successful background in finance and marketing. He has spent over two decades working with start-ups to major global brands to help them increase sales, productivity and overall success. He is an innovator with a remarkable ability to determine and build success plans to help business owners seize immediate market opportunities. For more information about Bill Walsh, visit http://ipowerteam.biz/about.php.