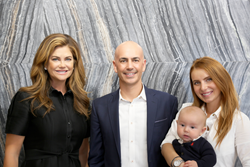 NEW YORK (PRWEB) May 04, 2020
Global Kitchen Concepts | kathy ireland® (GKC| kathy ireland®), the largest independent seller of European kitchens in the country with sixteen showrooms nationwide and growing, has launched a new line of exclusive kitchenware and decor -- Kitchen Hacks. The announcement was made by Mayan Metzler, Chairman and CEO of GKC | kathy ireland®.
Kitchen Hacks by GKC | kathy ireland®, offers consumers the best the kitchen world has to offer. Made by some of the world's leading manufacturers, this new line gives customers the most up to date, finely crafted hardware, accessories, décor and technology for kitchens, at affordable prices.
"We are absolutely thrilled to expand the GKC | kathy ireland® brand," says Mr. Metzler. "Kitchen Hacks was designed to truly change the aesthetic and functionality of kitchen space simply by using various 'hacks.' By making simple changes, such as switching out the hardware on cabinets or adding a backsplash rack, customers can efficiently and effectively transform the entire look and feel of their kitchen," adds Mr. Metzler, who is celebrated by Kitchen & Bath Design News as one of the country's leading innovators in his field.
"Finding solutions for families and businesses is kiWW's mission statement since the beginning, and we are delighted to bring the GKC | kathy ireland® Kitchen Hacks to people's homes," says Ms. Ireland, Chair, CEO and Chief Designer of kathy ireland® Worldwide, a recipient of multiple awards including several Good Housekeeping Seals. "Great kitchens must not only look great, but they also need to be as functional as possible. With Kitchen Hacks accessories, it is possible to enhance your existing kitchen with the latest and greatest gadgets -- at affordable prices."
Kitchen Hacks includes a Kathy's Essentials collection -- a personally selected line of accessories, décor and interior accents curated by the fashion icon, who is also listed as the 26th most powerful brand in the world by License Global magazine. In 2019, kiWW® partnered with GKC to establish sixteen branded designer kitchen showrooms throughout the United States. Chef Andre Carthen, kiWW® Brand Ambassador, known as The Fit Chef, will develop the products in the program with Mr. Metzler, Ms. Michala Metzler, Ms. Ireland and Jon Carrasco, EVP and Global Creative Director for kathy ireland® Worldwide. Stephen Roseberry, President and CMO for kathy ireland® Worldwide guides marketing for GKC | kathy ireland® and will address the same responsibilities for Kitchen Hacks.
The new Kitchen Hacks collection includes over two hundred must-have kitchen items, such as storage containers, drawer dividers, utility shelves, cabinet handles, décor and furniture, all uniquely designed to turn any ordinary kitchen into a high-end, functional space. The wide-range of designs in this collection are made to fit every décor style, while elevating any kitchen in a unique way. The collection also includes "hacks" such as backsplash racks; finely crafted plate holders; cookware designed by some of Europe's finest artisans, including glass pots, silicone pot covers and removable pot handles; compartmentalized trash bins for easy recycling; cutlery, cutlery racks and cutting boards for the home chef and much more. All products in the Kitchen Hacks collection are uniquely designed to not only transform the aesthetic of a kitchen, but also for optimizing space.
Kitchen Hacks is currently available at: https://www.gkckitchenhacks.com/
For photos of the products, please CLICK HERE.
About Global Kitchen Concepts | kathy ireland®
Founded in 2012 by Mr. Metzler as German Kitchen Center, GKC | kathy ireland®, is the only national multi-brand European kitchen chain in the United States and is the fastest growing kitchen center and kitchen cabinetry retailer in the U.S. Global Kitchen Concepts | kathy ireland® carries exclusive, high-end kitchen collections by European brands Leicht, Stosa Cucine, TEAM7, Charles Yorke and Pianca. GKC | kathy ireland® is the only kitchen design company that has a dedicated team of technical designers for European cabinetry in both New York and in Europe that ensure product quality excellence. Its dedicated production management team in the U.S. is committed to moving customers' kitchen projects forward to their satisfaction through meticulous kitchen appliance integration, fitting and installation, and product quality control. The company has sixteen showrooms around the country in cities including Miami, Seattle, Denver, Dallas, Atlanta, Washington D.C., Chicago, New York and Los Angeles.
Media Contact:
Kathy Ireland / kiWW®
Rona Menashe, Rona@Guttmanpr.com
Alyssa Marquardt, Alyssa@Guttmanpr.com
310/246-4600 Tel