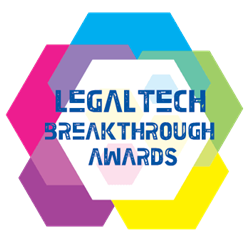 This new generation of breakthrough technology tools is having a significant impact on the levels of trust, productivity, efficiency and success of legal professionals and companies around the world - Bryan Vaughn, Managing Director of LegalTech Breakthrough Awards
LOS ANGELES (PRWEB) November 15, 2022
LegalTech Breakthrough, a leading independent market intelligence organization that evaluates and recognizes standout legal technology companies, products and services around the globe, today announced the winners of its third annual LegalTech Breakthrough Awards program, recognizing standout innovation in legal technology solutions and companies around the world.
The mission of the annual LegalTech Breakthrough Awards program is to conduct the industry's most comprehensive analysis and evaluation of the top technology companies, solutions and products in the legal technology industry today. This year's program attracted more than 1,450 nominations from over 12 different countries throughout the world.
All award nominations were analyzed, evaluated and scored by an expert panel of judges that represent a mix of technical, business, academic and analytical expertise within the technology industry. Categories include a wide range of fields such as smart contracts, workflow tools, knowledge management, e-billing and more.
"As legal firms and the legal profession at large are being transformed by the digital era, legal-focused technology, including automation, artificial intelligence, and analytics, has accelerated the digitization of the entire industry and disrupted the traditionally conservative legal market. This new generation of breakthrough technology tools is having a significant impact on the levels of trust, productivity, efficiency and success of legal professionals and companies around the world," said Bryan Vaughn, Managing Director of LegalTech Breakthrough Awards. "We're incredibly proud to announce the winners of our 3rd annual LegalTech Breakthrough Awards program to honor their dedication and success in revolutionizing the legal technology industry and shaping the legal department of the future."
The 2022 LegalTech Breakthrough Award winners include:
Case Management
Case Management Innovation of the Year: Assembly Software
Overall Case Management Platform of the Year: Filevine
Overall Case Management Company of the Year: Lawmatics
Data and Analytics
Competitive Intelligence Solution of the Year: UniCourt
Overall Legal Analytics Solution of the Year: KPMG Australia
Overall LegalTech Data Solution Provider of the Year: Ironclad
Documentation
Voice Transcription Solution of the Year: Law360
Legal Education
Legal Education Innovation of the Year: Justia
Practice Management
Overall Practice Management Solution of the Year: LEAP
Overall Practice Management Solution Provider of the Year: Litify
Legal Research
Legal Search Solution of the Year: Fact & Issue Finder, LexisNexis Legal & Professional®
Overall Legal Research Solution of the Year: Apex Doctrine by Lightfoot, Franklin & White
Overall Legal Research Solution Provider of the Year: vLex
Contract Management
Contract Management Company of the Year: Agiloft
Best use of AI in Contract Management: Lexion
Contract Life Cycle Management Platform of the Year: SirionLabs
Contract Management Innovation of the Year: Icertis
Overall Contract Automation Solution of the Year: Outlaw
Contract Management Solution Provider of the Year: Knowable
eDiscovery
eDiscovery Innovation of the Year: Casepoint
Overall eDiscovery Solution of the Year: Reveal
Overall eDiscovery Solution Provider of the Year: Onna
Leadership
Best Use of AI in LegalTech: ContractPodAI
LegalTech Startup of the Year: Henchman
LegalTech CEO of the Year: Evan Wong, Checkbox
Overall LegalTech Company of the Year: Mitratech
####
About LegalTech Breakthrough
Part of Tech Breakthrough, a leading market intelligence and recognition platform for global technology innovation and leadership, the LegalTech Breakthrough Awards program is devoted to honoring excellence in legal technologies, services, companies and products. The LegalTech Breakthrough Awards program provides a forum for public recognition around the achievements of LegalTech companies and solutions in categories including Case Management, Client Relations, Data and Analytics, Documentation, Legal Education, Practice Management, eDiscovery and more. For more information visit LegalTechBreakthrough.com