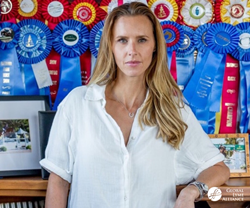 Each brings unique skills and backgrounds that can help GLA continue to grow, particularly in its efforts to find a reliable diagnostic test and new effective treatments.
STAMFORD, Conn. (PRWEB) January 24, 2019
Global Lyme Alliance (GLA) proudly announces that three individuals of diverse backgrounds and talents have been elected to its Board of Directors. Equestrian athlete Erin Walker, oil and gas industry executive Karma Newberry-Mortensen, and head of a private equity firm Steve Lefkowitz will bring their expertise and insights to GLA's board.
"We are excited and pleased to welcome three very distinguished professionals to the GLA board," said Board Chairman Robert Kobre. "Each brings unique skills and backgrounds that can help GLA continue to grow, particularly in its efforts to find a reliable diagnostic test and new effective treatments. I am proud that GLA continues to strengthen its diversity, professionalism and passion to such an important cause."
Newly elected members are:
—Erin Walker is a competitive equestrian athlete, mother of two young boys, Lyme disease survivor, and wife of PGA Champion Jimmy Walker, who also suffers from Lyme. In addition to traveling full time with Jimmy on the golf circuit, managing all the "back office" aspects of "Team Walker" and raising their children, she competes as an equestrian show jumper. In 2017 Walker started her own Texas-based business, Dynomite Ranch, which breeds and sells young horses to professionals and amateurs.
As both Walker's recover from Lyme, they plan to continue to fight for the thousands who suffer from the tick-borne illness. "I'm excited about joining GLA's Board," Walker said, "because I want to bring more awareness about Lyme to the nation's west, especially the equestrian and horse show worlds." In addition, she hopes "to create change to help people get treatment, the earlier the better."
—Karma Newberry-Mortensen is the President/CEO of Discovery Hydrovac LLC, a Utah-based hydro excavation company supporting the oil, gas, utility and construction industries. She started her first company, Wasatch Pipeline Supply, in 2000 and a decade later it merged with Pipeline Supply and Service to become the largest supplier in the oil and gas industry. In 2013, Newberry left the company to focus on a new venture—Discovery Hydrovac. It has since grown to become a leader in the hydrovac excavation industry. In recognition of her success, Newberry became the only woman ever to be nominated for the PLCA's (Pipeline Contractor Association) Board of Directors since its inception in 1947.
Diagnosed with Lyme three years ago, Newberry-Mortensen sought help from countless specialists for more than fifteen years before she was finally diagnosed. Her three children have also tested positive for Lyme disease. She is deeply committed to raising funds for tick-borne disease research and advancing education and awareness.
—Steve Lefkowitz is the founding partner of New York's Sagewind Capital LLC. Prior to founding Sagewind in 2015, he served as President and COO of CI Capital Partners, a private equity investment firm he co-founded in 1993. While part of the senior management team at CI Capital he oversaw more than 150 acquisitions representing $7 billion in enterprise value, with approximately $1.5 billion of invested equity capital. With friends who have suffered from Lyme, Lefkowitz says he wants to help raise awareness about the Lyme threat.
They join previously announced new board member, global superstar and philanthropist Avril Lavigne. Her board appointment in October coincided with the partnership announcement of The Avril Lavigne Foundation and GLA.
More information about GLA's board can be found at GLA.org.
###
ABOUT GLOBAL LYME ALLIANCE
Global Lyme Alliance (GLA) is the leading 501(c)(3) dedicated to conquering Lyme and other tick-borne diseases through research, education and awareness. GLA has gained national prominence for funding the most urgent and promising research in the field while expanding education and awareness programs for the general public and physicians. To learn more, go to GLA.org