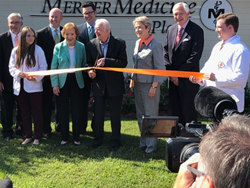 This program in Plains will become the model for providing high quality health services to rural areas.
PLAINS, Ga. (PRWEB) August 23, 2018
Former U.S. President Jimmy Carter, his wife Rosalynn, and officials from Mercer University and Global Partnership for Telehealth, celebrated the opening of Mercer Medicine Plains, a new primary care clinic in downtown Plains, Georgia, yesterday. Included in the ribbon cutting ceremony was the unveiling of a new telehealth suite provided by the Waycross-based nonprofit Global Partnership for Telehealth.
According to Rena Brewer, CEO of Global Partnership for Telehealth, the implementation of telehealth at Mercer Medicine Plains will allow patients to see Mercer-based specialists without making the nearly 80-mile trip north to Macon. Before the new clinic's opening, President Carter's hometown had been without a local medical provider since the closure of the Plains Medical Center in March 2018, making it the exact kind of medically underserved community Global Partnership for Telehealth was created to help.
"Days like today encourage us to continue our endeavors to provide the means for every community across America—rich or poor—to leverage telehealth for the good of its citizens," she said. "The cost of telehealth solutions and technologies should never be the main barrier hindering the implementation of telemedicine services for health systems and clinics like Mercer Medicine Plains."
In addition to peripheral scopes and other hardware necessary for a telemedicine consult, Global Partnership for Telehealth also provided the clinic with its new web-based telehealth platform, Pathways. According to Brewer, the company designed Pathways after more than twelve years of rural and urban telehealth implementation and with the input of hundreds of clinical telehealth providers.
After a speech by President Carter, in which he cited his passion to see access to healthcare for not only his community, but for all underserved communities, those attending the ribbon cutting ceremony experienced a live demonstration of a telemedicine consultation, courtesy of the Global Partnership for Telehealth team.
"This program in Plains will become the model for providing high quality health services to rural areas," said Global Partnership for Telehealth's COO, Sherrie Williams. "It exemplifies how a collaborative approach to healthcare works. With collaboration from the community, Mercer University, GPT and others, this program was developed in implemented in a relatively short time frame. GPT is honored to be a part of this effort."
Global/Georgia Partnership for Telehealth (GPT) is a nonprofit corporation whose mission is to deliver worldwide access to healthcare by leveraging technology. With a 12-year track record of success developing and implementing sustainable, cost-effective telehealth programs, we are the leading agency globally focused on increasing access to healthcare through innovative use of technology. Currently, GPT manages a network of more than 650 endpoints, including partner providers, health systems, schools, universities, long-term care facilities, correctional facilities, and international mission projects. For more information, visit our website at http://www.gpth.org.