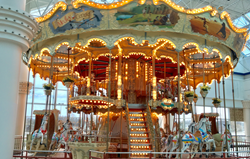 We Cater to the Elite Global Collector Community
ROCHESTER, N.Y. (PRWEB) June 22, 2019
Rick Sky of Collector Concierge International explains CCI was formed by a network of industry veterans to cater to the elite global collector community. Many of our clients are business leaders and celebrities, but also just regular people, dedicated individuals that have spent lifetimes assembling amazing collections.
Sky further explains; CCI assists these advanced collectors in purchases, logistics and setting new standards in collection or promotion when it is time to sell. CCI also places many collectibles in film productions via sister company http://bcpropsandcollectibles.com/. We work for Crows, finding & evaluating highly sought after rare & shiny jewels, then negotiating and providing logistics anywhere in the world!
We also work for very intelligent people and estates when it is time to sell, people that realize specialized expertise, negotiating position and custom tailored promotion greatly benefits the bottom line, when dealing in collections worth several hundreds of thousands or multimillion dollar values.
Dealing in all collectibles and having or recruiting only the top experts for various categories, the strength of CCI is its group of dedicated adrenaline junkie associates, always up for incredible challenges!
Lately things are also exploding for us in Europe, UK and UAE with our association formed with "The Dutch Pickers" Bennies Fifties Store. We are now selling whole collections out of the USA shipping for further distribution in containers leaving many times a year. Collectors have options now, other than auctions, that we also represent clients when dealing with.
The spectacular 2 story Bertazzone Carousel is being brokered to a very advanced collector via our close associate in Shanghai (Sam Sun) whom we have worked with in the past, even promoting a mechanical antique & coin op exhibit within 2017.
We literally have the "A Team" coming in to remove this carousel, Including Anthony Lockwood`s crew & Mike Hasanov with Vintage Coin Op Restorations. We are looking forward to taking the carousel down, but also another trip and adventure in China to follow.
Sky can be reached at 604 230 3692 if you are building or selling a world class collection in North America, Sargon Franse for Europe UK & UAE.