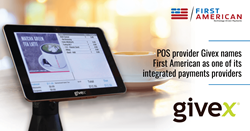 The First American team proved to our team that where their results-driven integration approach is at work, happy and loyal customers inevitably follow. We are thrilled to collaborate on this critical component of our POS offering. -Mo Chaar, CCO, Givex
FORT WORTH, Texas (PRWEB) July 11, 2019
Specializing in point-of-sale systems for both full service and quick serve restaurants, as well as retail environments, Givex is a worldwide leader in forward-thinking business management solutions.
Its proprietary POS solution is a favorite amongst the hospitality focused point-of-sale systems that are used by both restaurant and retail owner/operators. These business owners prioritize turnkey payment technology as much as they do a thoughtfully designed and comprehensively supported cloud-based POS system.
When the Toronto-based company turned its focus to U.S. markets, their search for a trusted and proven payment services provider led them to First American.
In choosing First American as its integrated payments provider, Mo Chaar, Chief Commercial Officer, Givex said:
"The First American approach stood out to us for a couple of significant reasons. Firstly, they bring the right mix of next-gen payment technology and integration skill. In addition, First American proved to our team that where their results-driven integration approach is at work, happy and loyal customers inevitably follow. We are thrilled to collaborate on this critical component of our POS offering."
"We are honored to be chosen as one of the preferred payment services providers for GivexPOS," said Justin Wolf, Director of Business Development, First American. "Their brand is well-known and widely-respected worldwide, and we are excited to help them expand the Givex solution set throughout the U.S."
For more information, please contact Justin Wolf, Director of Business Development, First American, justin.wolf(at)first-american(dot)net.
# # #
About First American – Technology Driven Payments
First American, headquartered in Fort Worth, Texas, is a global payment technology company providing leading integrated payment solutions to more than 180,000 merchants throughout the Americas, Europe, and Australia. First American provides partner and merchant payment solutions that include a robust set of in-store, online and mobile payment solutions paired with the latest in payment security, across a wide range of verticals. Backed by award-winning customer service, merchants and partners have access to our U.S. based Customer Call Center 24/7/365. For more information, visit http://www.first-american.net.
About Givex®
Givex is a global cloud-based operations management solution designed to streamline business efficiencies and generate valuable and actionable customer data. Since its founding in 1999, Givex has provided operational intelligence across a wide of variety of industries, from restaurant and retail to hospitality and the service sector, offering a fully integrated suite of customizable products, including gift cards, loyalty, point-of-sale (POS) systems, tableside ordering and analytics. Givex's Uptix™ ticketing solution transforms traditional sports or event tickets into a mobile interactive platform, providing event managers with new insights into their customer base and the ability to elevate the fan experience. With more than 16 billion transactions conducted across more than 55 countries, Givex is at the forefront of how brands will compete for customers now and in the future. For more information about Givex please visit http://www.givex.com/.