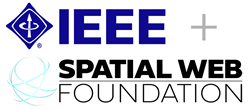 We are excited to work together with the IEEE and its members to advance the mission of global standards for the Spatial Web, upon which the next generation of applications will be built.
LOS ANGELES (PRWEB) August 11, 2021
Institute of Electrical and Electronics Engineers (IEEE), the world's largest technical professional organization dedicated to advancing technology for the benefit of humanity, has collaborated with the Spatial Web Foundation (SWF), the principal international standards organization responsible for developing and promoting ethically aligned technical standards for the next era of global network computing aka the "Spatial Web."
The Spatial Web incorporates technologies that enable future Smart Cities and Virtual Worlds colloquially known as the Metaverse. It is a hyper-connected, contextually-aware, network of humans, machines, and AI that integrates exponentially powerful technologies such as IoT (internet of things), ML (machine learning), XR (extended reality, aka MR/AR/VR), Autonomous Vehicles, Drones and Robots, Distributed Ledgers (cryptographic) and Edge Computing (edge) into a unified cyber-physical network. As billions of connected devices and services come online, collectively sensing, navigating, and performing physical activities in the world, machine-readable governance of data (policies, permissions, and rights management) is critical to aligning these powerful and pervasive technologies with a 21st Century society's ethical and environmental needs.
The launch of this working group marks the public commitment of the two most significant standards organizations towards the development of a 21st-century "cyber-physical" Spatial Web. The need for a new generation of open standards that drive technical interoperability and innovation, and also promote human and environmental well-being is increasingly apparent.
"We are excited to work together with the IEEE and its members to advance the mission of global standards for the Spatial Web, upon which the next generation of applications will be built," says Gabriel René, Executive Director of Spatial Web Foundation. "While we are initially focused on the core standards, given the broad applicability of Spatial Web Standards, we anticipate a family of standards, whose working groups can individually address technology-oriented standards — for, AI, autonomous vehicles, IoT and robotics, 5G, augmented and virtual reality — as well as industry-specific standards for government, supply chain, manufacturing, climate, healthcare, and smart cities."
After years of research and development, the Spatial Web Foundation presented its overview of initial draft specifications at the official launch of The Spatial Web Protocol, Architecture and Governance Working Group (IEEE P2874 Standard) on July 21st, 2021, a dynamic collective that includes members from academia, government, and business leaders across a wide spectrum of industries. The Foundation is contributing its specifications for a Hyperspatial Domains, Hyperspatial Transaction Protocol (HSTP) and Hyperspatial Modeling Language (HSML) capable of enabling and governing context-aware collaborative computing that ensures data provenance, data lineage, and data interoperability across connected hardware (e.g. autonomous vehicles, sensors, smart devices, robots) and software (e.g. services, platforms, applications, artificial intelligence systems). The specifications will also include mechanisms for quantifying and credentialing context-specific levels of trust, interoperability, privacy, and security required for both virtual and digitally-mediated physical activities.
The launch of the standards development group represents an opportunity to "reimagine the future". And as such, it is crucial that it incorporates the input and perspective from stakeholders across the globe, including privacy advocates, technology ethicists, scientists, climate researchers, and policy-makers, and social justice experts as well as device manufacturers, software developers, system integrators, telecoms, semiconductor manufacturers and cybersecurity experts all of whom are encouraged to participate.
The mission of the Spatial Web Working Group is to further develop the specifications to meet the rigorous requirement to become globally adopted IEEE standards, with a specific emphasis on the incorporation of foundational ethics and values as informed by IEEE's Ethically-Aligned Design P7000 Series of standards that provide guidance for the support of human rights, well-being, accountability, and transparency for AI and Autonomous Intelligent Systems which the Spatial Web standards intend to further incorporate and advance. This is a unique and historic opportunity to participate in what may be considered a public imperative.The working group is open to individuals that would like to participate in this mission. Details about the working group can be found at the IEEE Standards Association (IEEE SA) site: https://standards.ieee.org/project/2874.html
About IEEE
IEEE and its members inspire a global community to innovate for a better tomorrow through highly cited publications, conferences, technology standards, and professional and educational activities. IEEE is the trusted "voice" for engineering, computing, and technology information around the globe. https://www.ieee.org/
About SWF
The Spatial Web Foundation is an international non-for-profit organization dedicated to developing, stewarding and promoting specifications and standards for an open, free and secure Spatial Web and its benefit to future generations. https://spatialwebfoundation.org/