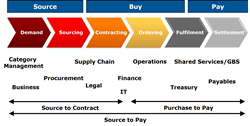 LONDON (PRWEB) January 13, 2020
2020 plans are being made, priorities being assessed and objectives being set.
The findings of Consider Solutions P2P survey have been collated and analysed and are now ready to be shared as a tool to refocus efforts and priorities for the year.
500 companies from around the world have shared their experiences, issues and aspirations, in a global survey which is unparalleled for 3 reasons;

The breadth of response from the largest companies, institutions and government bodies
The coverage of the entire Source to Pay/Purchase to Pay cycle
These are genuine insights, rather than just a contrived set of results as a justification for a "sales pitch"
Consider Solutions are hosting a webcast on 23rd January to delve deeper into what these facts, figures and insights mean, and to also take a look at how to mitigate these pain points and improve the outlook in the future.
Some findings were unexpected and clear trends emerged, but all have provided a fascinating insight into how the P2P process is operating globally.
All registrants will receive a copy of the recording post-event.