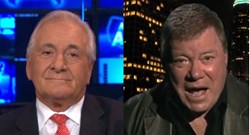 "Within a week of taking our training, graduates are prepared to arrange business loans between $5,000 and $50,000,000 or more to businesses of every type and size regardless of their credit standing, industry or years in business." Phil Dushey
New York, NY (PRWEB) November 19, 2013
Phil Dushey, CEO of Global Financial Training Program, has just been honored in an interview with William Shatner & Doug Lleweyln of nationally syndicated television program Moving America Forward. During the interview, Mr. Dushey was recognized for his success in helping to jump-start businesses across the United States by creating new opportunities for others in the lucrative business of providing loans to businesses. William Shatner's program will be seen by over 15 million people on more than 500 TV stations throughout the country.
In the broadcast interview, William Shatner asked Phil Dushey to elaborate on how Global Financial Training Program helps America to move forward. "America's always been a place where entrepreneurs can start from nothing and rise all the way to the top. This spirit is the foundation of our nation. However, in these tough times, it has become difficult for those entrepreneurs to get their vision off the ground," Mr. Dushey explained. "Banks are turning down over 90% of applicants, and this is having a devastating impact on our economy. For over 30 years, we have been helping businesses who have been turned down by banks to obtain their much needed financing so they can grow and prosper. And that, Mr. Shatner, is how Global Financial is helping to move America forward."
Mr. Dushey was also selected to receive the prestigious "Moving America Forward" Award by Retired Rear Admiral Kevin F. Delaney. Global Financial Training was recognized for their outstanding work in helping businesses thrive and grow and for creating jobs for others in this growing industry. This award is given to innovative entrepreneurs that have distinguished themselves in their industry and, as a result, are "Moving America Forward".
"Global Financial Training Program teaches the "ins" and "outs" of this prestigious industry. We connect trainees with a pre-established network of funding sources and enable students to get approval to do business with these lenders," said CEO Phil Dushey. Every student learns to be their own boss, with a complete sense of independence and security, especially important in these tough economic times."
Global Financial Training provides trainees with all the tools to help provide loans to businesses across the United States immediately after the four-day training program. "Within a week of taking our training," Mr. Dushey said, "they will be prepared to arrange business loans between $5,000 and $50,000,000 or more to businesses of every type and size regardless of their credit standing, industry or years in business."
Global Financial also provides over 30 different types of loans, including equipment leasing, working capital, business acquisitions, and real estate and many more. Once trained in this industry, graduates can say "YES" while banks are saying "NO" to 90% of business loan applicants.
About Global Financial Training Program:
Phil Dushey brings over 30 years of continuous experience in the commercial finance business to Global Financial Training Program. This unique program has been called "The business opportunity of the decade". Global's program trains select students in the field of commercial finance, the business of loaning other businesses the money they need to survive and grow. Graduates of this four-day program are prepared to "Own Your Own Finance Company",
Global Financial Training Program can be reached at 201.633.3010. For more information, visit http://www.globalfinancialtrainingprogram.com.