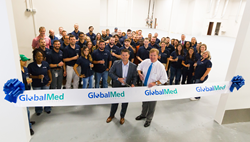 As we say to both our employees and our customers, we live our mission statement of 'Together We Grow'
ATLANTA (PRWEB) September 24, 2018
GlobalMed Logistix (GMLx), a leading provider of third party logistics (3PL) services for the medical device industry, is announcing the 21,000 square foot expansion of its Atlanta-based headquarters located at 1880 Beaver Ridge Circle in Norcross, GA. GMLx was founded to create win-win partnerships with both startup and mid-size medical device manufacturers from all over the world, acting as their full turn-key outsourced logistics provider in the United States. The expansion reflects the continual increase in demand from healthcare companies for the 40 years of medical device experience and superior 3PL services that GMLx offers.
The updated 60,000 square foot facility will support the company's growth strategy, allowing for the addition of new medical device manufacturer customers as well as an increase in service capabilities for their existing partners. The current team and facility facilitates more than 90,000 surgical cases and orders per year at over 3,000 healthcare facilities across the county. With $600M worth of medical device inventory under management, GMLx has positioned itself as a valued partner in the healthcare logistics space.
"The GMLx expansion allows our healthcare partners to run their businesses more efficiently, reduce their capital expenditures and focus their investments on their technology, market penetration and, most importantly, their patients. At the end of the day, we measure our success on the number of patients' lives impacted which, this year, will approach 100,000 lives. This new space will allow us to help our partners grow their businesses and impact even more lives." said Scott Vane, President and Chief Operating Officer. "GMLx is driven to exceed customer expectations by continuously innovating and improving the skills and resources required for us to be the most dependable and customer focused 3PL provider in healthcare."
This significant expansion of both warehouse and office space acknowledges GMLx's renewed commitment to its long history of attracting the best operational talent in the industry and providing superior service for their customers.
"The growth of GMLx provides more opportunities for internal development for team members and creates new opportunities for skilled employment in the Atlanta market. As we say to both our employees and our customers, we live our mission statement of 'Together We Grow,'" Vane commented.
About GlobalMed Logistix
GlobalMed Logistix, LLC (GMLx) is a leading medical device third party logistics company specializing in warehousing, distribution, inventory management and superior customer service headquartered in Norcross, GA. GMLx is adept at quickly customizing customer requirements into full turn-key logistics solutions. Leveraging 40 years of experience and expertise in healthcare logistics, GMLx provides companies with the confidence and resources needed to grow their business. GMLx is ISO 13485:2016 certified as an initial importer, repackage/relabeler and bio-skills lab services provider.
CONTACT: Hunter Fleetwood, Director of Sales - hunter.fleetwood(at)gmlx.us.com