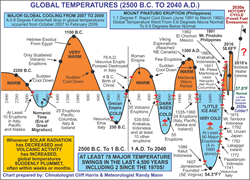 If we see a strong La Nina, combined with very little sunspot activity around 2020, then we could see a winter season of unprecedented cold and snow.
Coeur d'Alene, ID (PRWEB) February 28, 2017
Harris-Mann Climatology has updated their long-term forecasts to 2040 and predicts colder weather across the globe in the early 2020s before much warmer temperatures return.
According to Climatologist Cliff Harris, "In the last 4,500 years, there have been 78 major weather changes of global warming and cooling, including several since the 1970s." Harris expects another major change around 2020 as sunspot activity, storms on the sun, will be extremely low combined with an expected strong La Nina, the cooler than normal sea-surface temperature event.
"If this pattern develops, we would likely see very heavy seasonal snowfalls and more frigid winter weather, especially north of Interstate 80, perhaps as far south as I-40 down into Oklahoma, with record snows possible in the Cascade and the Sierra Nevada Mountains of the Far West," says Meteorologist Randy Mann.
Forecasters at Harris-Mann Climatology point out that much colder than normal temperatures and above normal snowfalls have already been seen this winter season across northern Europe, northern Asia, Japan and parts of North America. Rare snows were reported down to Cairo, Egypt, Jerusalem and Naples, Italy. Unprecedented heavy snows were also seen in Afghanistan. The early portion of January had some of the coldest weather in modern times across the Northern Hemisphere.
Harris says, "Globally, we've been in a pattern of wide 'extremes,' the worst since the mid 1300s when the mighty Vikings were forced off their farms in Greenland. The frigid winter of 2016-17 across the Northern Hemisphere was due, at least in part, to the already low sunspot activity and a very weak La Nina. If we see a strong La Nina, combined with very little sunspot activity around 2020, then we could see a winter season of unprecedented cold and snow."
Data from the National Oceanic and Atmospheric Administration says that 2016 was the warmest in recorded history with an average temperature of 58.69 degrees Fahrenheit. The 20th Century normal is approximately 57 degrees. Harris believes that after the upcoming cold period around 2020, the Earth's temperature will turn warmer once again and could be as high as 60 degrees by the 2030s.
More details on this forecast along with their long-term climate chart can be found on their website, http://www.LongRangeWeather.com.
Harris-Mann Climatology offers a daily advisory weather and commodity service for farmers and traders. They also provides detailed monthly temperature, precipitation and snowfall forecasts for most U.S. and Canadian cities, plus outlooks for the following 12 months for over 6,000 world cities. They recently added short 30-second videos for over 200 major world cities that describe when is the "best time to travel" based on historical climatology.