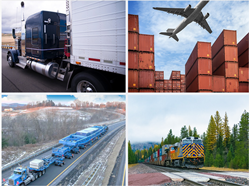 "Through PipelineDeals CRM, we've built one of the most efficient freight agent recruiting programs compared to any of our competitors." - Brian Coleman, Manager of Agent Acquisitions at GlobalTranz
SEATTLE (PRWEB) January 16, 2019
PipelineDeals, the most adopted customer relationship management (CRM) software among small and midsize businesses (SMB), was selected by GlobalTranz to increase revenue and streamline its agent acquisition program.
"Through PipelineDeals CRM, we've built one of the most efficient freight agent recruiting programs compared to any of our competitors," says Brian Coleman, Manager of Agent Acquisitions at GlobalTranz, a leading technology-driven, third-party logistics (3PL) solutions provider. "'PipelineDeals gives our entire team full visibility in the recruiting process which enables us to focus on finding new agent partners to generate more revenue each year. That's why we work by the motto, 'It didn't happen unless it is recorded in PipelineDeals CRM.'"
GlobalTranz implemented PipelineDeals for its easy-to-use features and the flexibility to update fields and forms applicable to both recruiting and sales functions. In 2017, 63 percent of agent partnerships generated revenue -- a record number for the company. In addition, the team utilizes PipelineDeals' Contact Management features for targeted email marketing campaigns to generate additional gross profit in the six-figure range.
"GlobalTranz is one of the most technology driven companies in the 3PL space and PipelineDeals is proud to help them achieve their agent relationship goals which has proven to be a key driver to the company's impressive growth," says JP Werlin, CEO and Co-Founder of PipelineDeals. "In the world of freight and logistics, tracking leads and having full visibility into a pipeline is key to success in the recruiting process. When logistics companies adopt a CRM that's customizable to their business needs, productivity gets a boost and so does the bottom line."
To view the full GlobalTranz success story, visit: http://www.pipelinedeals.com/customers/globaltranz
About PipelineDeals CRM
Founded in 2006, PipelineDeals is the most adopted CRM for small and midsize businesses, empowering sales teams across a breadth of industries to build game changing relationships. PipelineDeals is built around an easy-to-use and customizable user experience, sales focused features, and leading customer support and service. Today more than 18,000 users in 100 countries use PipelineDeals to gain visibility into their sales pipeline to accelerate opportunities and close more deals.
Headquartered in Seattle, WA, PipelineDeals has made the annual Inc. 5000 list since 2014, recognized as one of the fastest growing companies in the U.S. For more information about PipelineDeals or to try a 14-day free trial, please visit http://www.pipelinedeals.com and engage with PipelineDeals on Twitter.
About GlobalTranz
GlobalTranz is a technology-driven freight brokerage company specializing in LTL, full truckload, third-party logistics and expedited shipping services. GlobalTranz is leading the market in innovative logistics technology that optimizes the efficiency of freight movement and matches shipper demand and carrier capacity in near real-time. Leveraging its extensive freight agent network, GlobalTranz has emerged as a fast-growing market leader with a customer base of over 25,000 shippers. In 2018, Transport Topics ranked GlobalTranz as the 10th largest freight brokerage firm in the U.S. For more information, visit http://www.globaltranz.com.