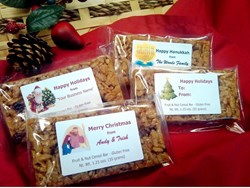 Pisgah Forest, NC (PRWEB) December 15, 2013
TNW Ventures, Inc., maker of Do More Bars, gluten free, gourmet fruit & nut cereal bars, is now offering any of their six flavors with custom label options. Currently on the website, customers will find several Christmas and Hanukkah choices. Customers can choose a theme, a greeting and personalize the 'from' and 'to'. The minimum order for custom labels is only 24 bars and there is no extra charge for this service. Additionally, they qualify for free shipping. Volume discounts are available.
Bars with custom labels have numerous business and personal uses, from business branding and customer appreciation to fundraising, weddings and reunions. The website shows current holiday options but the company also offers design options for most any occasion or customers may submit one of their own. To find out more about their custom label services visit their website at http://www.DoMoreBars.com or contact Sales(at)DoMoreBars(dot)com.
Do More Bars gourmet fruit & nut cereal bars are all natural and gluten free bars that come in a variety of flavors: Date Pecan, Pineapple Coconut, Raisin Peanut, Orange Cranberry Pecan, Cherry Almond and the new arrival, Apple Walnut. Similar to a rice crispy treat but in a healthy gourmet version, these top rated healthy snack bars are sold in 100 retail locations nationwide, including Ingles grocery stores and Earth Fare supermarkets, as well as online at DoMoreBars.com.
Do More Bars was founded by single-mom Tammy Woods in 2008. The healthy snack bars were created out of a need in Woods' family for snacks that would satisfy her health conscious mind and her daughter's taste buds. With a passion for cooking, Woods set out in the kitchen to create great tasting gluten-free bars that were all natural and made with wholesome ingredients. The result was a light, crisp, chewy bar, made with whole grain, fruit & nuts – winning approval of both mother and daughter. As a matter of fact, her daughter liked them so much she inspired Woods to start the business.