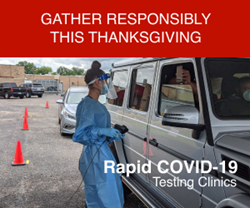 Anyone celebrating the holidays with people outside of their household should first take a rapid COVID test to ensure they're healthy and keep their loved ones safe.
HOUSTON (PRWEB) November 24, 2020
As COVID-19 infection rates continue to skyrocket and the Centers for Disease Control urges Americans to stay home to limit the spread of the virus, more than 1 million travelers passed through airport security checkpoints over the weekend before Thanksgiving. To help holiday travelers and college students returning home determine if they have been infected with the virus, GMED Global, LLC, an international health care institution specializing in medical education and health care workforce development and solutions for government and non-government organizations, today announced updated holiday hours for rapid COVID-19 testing at its three Rapid COVID Clinics. GMED encourages anyone who will be gathering with people outside of their household to get tested first to limit the spread of the coronavirus. COVID testing is available at GMED's two Houston locations and its clinic in Old Town Scottsdale by appointment or for drop-ins, with results provided the same day.
"We recognize the fact that with college students returning home from school, people who are traveling over the holidays, and others who will be celebrating with loved ones that there will be an increased risk of spread," said Dr. Ramin Ahmadi, Co-founder and Chief Medical Officer of GMED. "Anyone celebrating the holidays with people outside of their household should first take a rapid COVID test to ensure they're healthy and keep their loved ones safe. Rapid COVID tests are a critical tool in identifying people who test positive for the virus so they can act quickly to isolate and prevent further spread of the disease."
GMED utilizes the rapid COVID test manufactured by Quidel, one of the few rapid antigen tests in the country. This test is approved for use by the U.S. Department of Health & Human Services and has been deployed to allow point-of-care testing in nursing homes in the State of Maryland. The test includes a pain-free nasal swab that can be self-administered - minimizing the exposure between test takers and health care providers. This highly accurate test directly detects the presence of COVID-19 and test results are returned the same day.
GMED's rapid COVID testing locations and hours are as follows:

Houston/Westbury (5556 Gasmer Dr, Houston, TX 77035)
Monday-Friday 9 am – 7 pm
Saturday and Sunday 10 am - 4 pm
Houston/Kirby (3773 Southwest Fwy, Houston, TX 77027)
Monday-Friday 7 am – 6 pm
Saturday and Sunday 10 am - 3 pm
Phoenix/Old Town Scottsdale (6940 E. Indian School Rd., Scottsdale, AZ 85251)
Testing by appointment only
Monday - Friday 8 am – 7 pm
Saturday and Sunday 9 am - 4 pm
All testing sites will be closing at 2 pm on Wednesday, November 25, and will be closed on Thanksgiving Day.
The test does not require a doctor's referral. Individuals must schedule an appointment for the Phoenix testing site; Houston locations offer testing by appointment and on a drop-in basis. GMED also offers on-site COVID-19 screening to assisted living and nursing homes, area businesses, federal health clinics, and schools. Discounted rates are available to healthcare workers, dentists, law enforcement, first responders, flight crew, postal workers, and school employees with proper identification.
For more information about testing locations, rules, procedures, and hours of operation, or to schedule an appointment visit http://www.rapidcovidclinic.com.
About GMED Global
GMED Global LLC is a healthcare network that works across the globe to support NGOs, hospitals, medical schools, and governments to establish training and development programs in health care and medical education. Based in Houston, the GMED network has a global reach, with offices in San Francisco, New York, New Haven, Toronto, Monaco, and Riyadh. Through a unique partnership with the Royal College of Canada, GMED's Kazan State Medical University offers a pathway for future doctors to practice medicine in North America. GMED's subsidiary businesses span the scope of the health care industry, including mobile hospital development, healthcare logistics and supply chain staffing, contact tracing, and education and testing. For more information visit https://www.globalhealthresponse.com/.
####