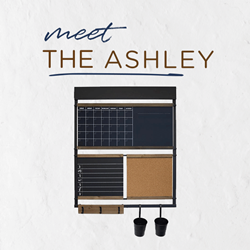 "The fact that we have been able to provide a product which has helped families stay more connected, manage homeschooling, and achieve goals inspires us to do more." – Mayra Kavan, Chief Brand Officer
SUNRISE, Fla. (PRWEB) July 14, 2020
1THRIVE Command Centers are visual wall organizational systems that make planning and goal setting fun! During the recent quarantines and school closures, 1THRIVE Command Centers have been a lifesaver for many busy moms and dads who have been homeschooling their kids, and for college students who transitioned to virtual learning. For families, 1THRIVE command centers help with organization and productivity – for example, sharing family schedules and activities, motivating & organizing school, planning meals and workouts, and laying out personal goals.
1THRIVE Command Centers have a simple yet highly functional design that fits easily into any home decor. Base pricing starts at $99 at 1THRIVE.com. Configurations are interchangeable and easy to hang. Over the door hangers are available for the long systems that are perfect for dorm rooms or rental properties. Each command center has its own 'personality.' 1THRIVE currently has seven (7) systems and is excited to introduce three (3) new systems in August for Back To School along with (3) Family Packs:

The Ashley: Ashley is a planning guru whose daily routines are etched in thriving, she is no doubt the ultimate time and space planner with her monthly and weekly calendars, hanging hooks and storage cups.
The Megan: Megan is the ultimate space saver and the envy of the neighborhood. She is the triple threat of organizing. Large storage for folders and bills, monthly and note board calendar, just the right size daily to do list and cork board.
The Rachel: With her compact size, Rachel, is the perfect system for the space challenges like an office/dorm/teen space. Complete with monthly and weekly calendars, a file folder, storage cups and cork board, she is organizing simplified.
Family Packs: The Dynamic Duo, The Tidy Trio, and The Stylish Siblings family packs are tailored combinations of 1THRIVE best sellers and are an awesome way to bring the whole family on your organizing journey.
Beyond 1THRIVE Centers, 1THRIVE will be offering organizational tips/tricks via free downloads, blogs and a newsletter covering topics like meal planning, decluttering, budgetary planning, fitness and scheduling. They also have an engaging Facebook community, the 1THRIVE Tribe, a space for people to share ideas and encourage each other to achieve their goals. Some features will be #SetupSundays and "1THRIVER of the month."
About 1THRIVE – A company that thrives on making organization fun and simple through its 1THRIVE Command Centers. 1THRIVE also fosters a social community where people can share ideas and command their life! For photos, videos and more: click here 1THRIVE EPK
###