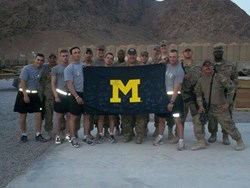 'Michigan alumni athletes have great respect for veterans and active military.' - Brandon Williams, M letter winner and retired NFL player
Ann Arbor, MI (PRWEB) November 05, 2013
Brandon Williams, one of the founders of affinity social network community "Go Blue Then and Now" announces creation of a Facebook presence "Michigan Wolverine Fans who are Veterans or in Service".
Williams, a retired NFL player and Michigan letter winner, was integral in creating the initial Go Blue Then and Now social media presence that has now evolved into an ASNC.
"Michigan alumni athletes have great respect for veterans and active military," says Williams. "We know that those who serve are the real heroes. We created the Facebook presence as a place for us to honor them. We look forward to connecting with the global Michigan military family through this new page as well as our tribute in a special website section on gobluetan.org."
As has been done since inception, Go Blue Then and Now will be giving away tickets to the home game closest to Veterans Day to randomly selected current military. This year there are two sets of two tickets. To qualify for the November 7 drawing, active military need to simply join the Go Blue Then and Now community and note their status.
"This drawing is simply a starting point," says Williams. "We are currently discussing plans for a special event in connection with the Michigan Spring Game and other events in the future. Our plan is to allow Michigan alumni athletes to meet with veterans in an informal setting to give our personal thanks."
About Michigan Wolverine Fans who are Veterans or in Service:
This Facebook page has been created as a direct presence for sharing pictures and information about Michigan fans in the military.
About Go Blue Then and Now:
Go Blue Then and Now is an affinity social network community that unites Michigan sports fans and creates visibility for charitable and community service efforts by University of Michigan coaches and player alumni. It also serves as a place where all Michigan players, family, friends, alumni and fans can gather. Its primary purpose is to allow Michigan fans to learn about upcoming charity events supported by Michigan sports legends. It is not a company or a not for profit. Instead it is a place where all the Michigan global community can network with each other. The costs are all privately financed by Keliher Consulting. Thus it is a private sector effort to support a public need. The presence is in essence a hub collecting Michigan sports related information to allow "one stop" viewing. All those involved in social media are welcomed to join to create visibility for their presences.