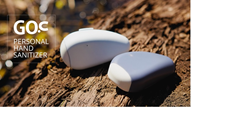 SUNNYVALE, Calif. (PRWEB) May 12, 2020
Kickstarter, the website turning ideas into a funded reality, will host the Go. C campaign. Interested backers can choose multiple tiers of support from as low as $19. All backers can receive up to 48% off on their Go. C sanitizer. For a preview of all pledge tiers, visit the Kickstarter page today.
Go. C arrives at a time of high demand. Most customers looking to buy small and portable hand sanitizing bottles are finding that these products are unavailable or sold far above the market value. But, even if a purchase is made for one of these products, the bottles end up in landfills after their one-time use. Go. C hopes to not only offer a suitable product to fill this growing demand but also provide one that is affordable and friendly to the environment.
"In connection with the global outbreak of COVID-19 disease, all efforts at this time are focused on lessening the spread of this virus, therefore there is an urgent need for the constant use of antiseptic agents to minimize the risk of infecting." Due to the recent COVID-19 pandemic, Wellness & Innovations Labs recognizes that hand sanitizer has become more crucial and more important than ever for the public to keep on-hand. Not having a sanitizer with you when you are out in public threatens the health of you and those around you. Go. C provides customers a convenient and eco-friendly option to keep themselves and their surroundings safe.
Because Go. C is funded completely through backer support, it is essential that customers back this project and pledge their support before the project deadline. For a list of benefits, pledge tiers and rewards, and more information, please visit the Go. C Kickstarter page here.
Wellness Innovation Labs are a research and developmental center established to conceptualize and bring-to-market medical device prototypes for recreational consumer and medical use. This product is made in collaboration with HOKORD, an R&D company in Sunnyvale California, USA. For more information or to contact Wellness & Innovation, please visit
https://www.wilabsinc.com / https://www.kickstarter.com/projects/wilabs/goc-personal-wearable-hand-sanitizer