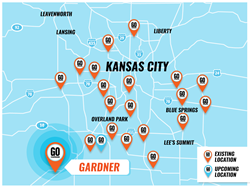 GARDNER, Kan. (PRWEB) August 11, 2020
GO Car Wash is excited to announce the upcoming launch of their first development site on August 13th, located at 1750 E. Santa Fe St., Gardner, KS 66030. This will bring the total operating GO Car Wash sites to 20 in the Kansas City market with one additional site under development and expected to launch in the fall for a total of 21 sites in the Kansas City market. Grand Opening specials will include free washes along with a $9.99 first month membership promotion for any Unlimited wash package. A ribbon-cutting ceremony will be held with the City of Gardner on location with the Mayor at Noon on August 13th along with a Facebook Live event available.
The new location, opening August 13th, boasts state-of-the-art car wash features.
The site will feature advanced car wash technology including license plate recognition for GO Unlimited members to access the wash seamlessly. Memberships will be valid at all GO Car Wash locations throughout the market. Numerous free vacuums and an exceptional customer service experience are just some of the additional highlights of the new car wash, consistent with all GO Car Wash locations.
"We are thrilled to continue to expand our footprint throughout the Kansas City market with the opening of our first development site in Gardner" says Brett Meinberg, Chief Operating Officer of GO Car Wash. "We look forward to continuing to offer the same great customer experience to new and existing customers in Gardner and throughout Kansas City."
Follow GO Car Wash on social media or visit http://www.gocarwash.com for the latest updates on this Grand Opening.
About GO Car Wash
GO Car Wash, headquartered in Phoenix, AZ, currently operates 24 sites in 3 states, including Kanas, Missouri and Nevada. GO Car Wash targets high-quality exterior express car washes with a multi-pronged growth strategy focused on acquisitions, partnerships, and new site buildouts.
For more information, please visit http://www.gocarwash.com
Contact
GO Car Wash
JT Thomson
President & Chief Development Officer
JT.Thomson@GOCarWash.com
480-744-0495