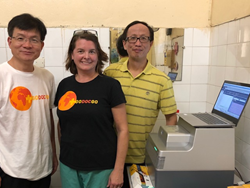 Both Senegal and Gambia have received the first self-sampling Atila AmpFire HPV point-of-care test units in their countries from Go Doc Go's generous donation, which should immediately help scale HPV screening among the regions to prevent cervical cancer.
NEW PALTZ, N.Y. (PRWEB) November 27, 2019
Go Doc Go (GDG) has just returned from a groundbreaking trip setting up the first HPV testing units in hospitals in Senegal and The Gambia. Go Doc Go, a not-for-profit International medical organization, has been working in low-middle income countries since 2014 to prevent cervical cancer. Following World Health Organization (WHO) guidelines, GDG has been training hundreds of health care providers in Ethiopia, Senegal, The Gambia and Haiti in both low-cost screening using acetic acid and treating of precancerous lesions. GDG donates the equipment to treat these lesions following the training.
While screening with acetic acid is simple and low cost, it requires that each woman has a pelvic exam and the results are subjective. The new units donated by GDG use the Atila Biosystem's Ampfire system which have been developed to be simple, fast and low cost. Women can collect their own sample in a matter of minutes and the system takes only one hour to run. The Ampfire technology has been proven to be very sensitive and specific in identifying the high -risk types of HPV that are responsible for 99% of cervical cancer. Testing for HPV will allow screening in remote areas and villages where women do not have access to health care providers. Dr. Patrick Idoko, a gynecologist at The Edward Francis Small Teaching Hospital in Banjul where one unit was installed states, "The Gambia is a small country and with this technology I believe we can be cervical cancer free within two years." Dr. Thiam in Saint - Louis, Senegal is equally excited that this new technology which can screen thousands of women easily will transform cervical cancer in Senegal.
The team included GDG's founder and Executive Director, Maggie Carpenter, MD, their Program Director, Patricia Bacon as well as the team from Atila Biosystems made up of CEO and founder, Youxiang Wang and head technologist, Xin Chen.
These machines bring these low resource hospitals into the 21st century with testing and treatment at the same level as developed countries. Besides identifying women who are at risk and need evaluation and treatment, it allows for research into the prevalence of specific types of HPV in different regions.
While this effort was not without significant hurdles, GDG returns today from a very successful venture. As always GDG will continue to supply all of their current programs with the supplies to continue this important work. GDG will continue to work with the Ministries of Health in both Senegal and The Gambia and is now working with the Ministry of Health in Ethiopia to repeat their efforts there.