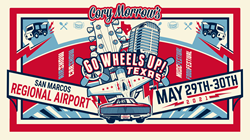 "We just want to bring everyone together and celebrate what's great about America and Texas. It's going to be an incredible weekend and we hope everybody in the community comes out to see what we have, what San Marcos has." Cory Morrow
AUSTIN, Texas (PRWEB) January 27, 2021
VAST Concerts & Events LLC announced today that they are moving forward with Go Wheels Up! Texas scheduled for May 29-30, 2021 at the San Marcos Regional Airport. The event, an air show, car show and concert hosted by Texas musician Cory Morrow was first held in 2019 but was cancelled in 2020 due to COVID-19.
"We're all relieved and excited to get to do an event this year," says Morrow. "We believe in giving San Marcos and Central Texas something to look forward to during these turbulent times. We just want to bring everyone together and celebrate what's great about America and Texas. It's going to be an incredible weekend and we hope everybody in the community comes out to see what we have, what San Marcos has."
The air show will feature the United States Air Force F-16 Viper Demonstration Team, along with several performances by some of the top aerobatic pilots and skydivers in the nation. The car show will showcase hundreds of classic, exotic and unique automobiles from across the state and Cory Morrow himself will headline the entertainment lineup which will also feature other well-known local and regional performers.
"Of course, our central concern is the safety of our spectators, performers and staff," says Go Wheels Up! Texas' director of operations Clayton Corn when asked about the ongoing pandemic. "We will be monitoring all available information regarding public health and we will act in accordance with directives from city, county and state officials."
Mayor of San Marcos, Jane Hughson, said, "I attended Go Wheels Up in 2019 and I thought it was fabulous! The air show, car show, and music certainly provided a full weekend of fun. I am encouraged to hear that planning of the event is moving forward with preventive measures included in case we're still dealing with effects of COVID-19 and gatherings at the end of May."
Clayton Corn continued, "We are moving forward under the assumption that the pressure on the healthcare system will ease by the end of May to a point that we all feel it's appropriate to hold a large outdoor event. Should we need to incorporate social distancing and other precautions, we are certainly including that in our planning."
A portion of the proceeds will go to benefit area charities including the San Marcos Education Foundation, the Greater San Marcos Youth Council and the Commemorative Air Force Central Texas Wing.
Tickets for the event will go on sale February 8. Sponsorship, vendor and volunteer opportunities are also available. For more information, visit Go Wheels Up! Texas or email Info@gowheelsup.live
Contact Information:
Jake Clements
Go Wheel Up! Texas
Jake@vast.events
833-2GOWHEELSUP (833-246-9433 Ext. 5)
About Go Wheels Up!
Go Wheels Up! is a celebration of aviation, automobiles and music created to lift up its host community by championing local businesses, driving significant economic impact and giving back through local charities. Go Wheels Up LLC is a wholly owned subsidiary of VAST Concerts & Events LLC.