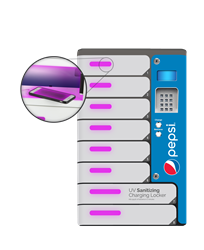 NEW YORK (PRWEB) October 26, 2020
goCharge Inc. (http://www.gochargenetworks.com), the nation's leading provider of Mobile Device Charging Stations, announced the introduction of its UV-C Sanitizing and Charging Stations to address and combat the proven dangers of COVID-19 and other infectious diseases on glass and other surfaces.
goCharge has launched its UV-C Orion, a kiosk with 8 individual and secure lockers, each of which will simultaneously sanitize and recharge batteries on cellphones, iPads and Tablets. The UV-C Sanitizing process utilizes UV-C light rays which have been proven to kill 99% of germs and bacteria in approximately 5 minutes, without posing any risk of skin or eye damage. As an added safety precaution, the UV-C lights in the goCharge Kiosks will only go on once the locker door is closed.
On October 12th, researchers at the Australian Commonwealth Scientific and Industrial Research Organization (CISRO), Australia's national science agency, found that coronavirus can survive for up to 28 days on smooth, glass surfaces – such as that found on mobile phone screens, reinforcing the importance of sanitizing your phone and other glass-based electronic devices whenever possible.
"The Study published by CISRO provides important yet disturbing new information", commented David Walke, CEO of goCharge. "While there have been many studies conducted which confirm just how dirty our cell phones can be—in fact, cellphones carry 10X more germs and bacteria than most toilet seats—it has now come to light that if any of those germs are SARS-CoV-2, the virus responsible for COVID-19, they can survive on your cell phone for up to 28 days."
"As the nation's leading provider of Mobile Device Charging Stations, we have helped millions of cellphone users stay connected to family, friends and business for over 10 years", Mr. Walke continued. "And now with our new UV-C Orions, we can also successfully address the dangers of COVID landing and potentially remaining on cellphones and any glass-based electronic device. Indeed, anything placed in the UVC-Orion locker will be sanitized in about 5 minutes!"
The UV-C Orions can be wall-mounted, placed on a table, or free-standing on pedestals, and are powered by a standard 110-volt wall outlet. A Digital Monitor can also be attached, which feature remote content management capabilities for third party advertising and/or internal messaging.
Mr. Walke also announced the introduction of 2 revolutionary and related UV-C based products:

UV-C Sanitizing Modules for Charging Stations - that can easily be placed in any existing Mobile Device Charging Station locker. The Module will perform in the exact same manner as that of the UV-C Orion, and thereby provides UV-C Sanitization capabilities to traditional Charging Stations.
UV-C Sanitizing Modules for Lockers - which are self-powered with 18650 long-lasting Lithium Ion batteries, thereby negating the need for electrical power, and can be easily placed in any locker (hospitals, schools, gyms and fitness studios, factories, theme parks, etc.) to quickly and effectively sanitize phones and any objects placed in the locker.
"With the introduction of these exciting and critically needed UV-C Sanitizing solutions, goCharge is effectively addressing the safety and health issues presented by COVID-19 and other infectious illnesses and diseases on cellphones and many other objects. With the publishing of the CIRSO study, the need to ensure safety and cleanliness on glass surfaces—especially cellphones—has become more important than ever before", Mr. Walke concluded.
goCharge is a leading provider of Mobile Charging Stations to conferences, music festivals, hospitals, sports stadiums & sporting event, universities and more. Available for rent or purchase, goCharge offers an array of cellphone charging stations with features ranging from free-standing kiosks, wall-mountable or tabletop units, and charging tables. goCharge Charging Stations are currently in over 60 professional and college sports stadiums and arenas (including 27 Major League Baseball ballparks), as well as multiple Universities, Hospitals and Corporations around the country. For more information, contact 877-663-2504 or gochargeteam@gochargenetworks.com.