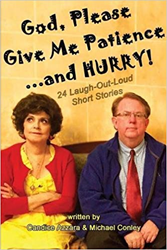 A laugh out loud collection of short stories from hollywood heavyweights
LOS ANGELES (PRWEB) July 23, 2018
Azzara of Broadway, TV and film fame celebrates her landmark 40th Anniversary in Hollywood with her starring roles in the hit comedy films: HOUSE CALLS with Walter Matthau and Art Carney, EASY MONEY with Rodney Dangerfield and Joe Pesci, and FATSO with Dom DeLuise and Anne Bancroft. Azzara has also starred in the CBS sit-com "Calucci's Department" with James Coco and had memorable recurring roles in the hit Network sit-coms "Who's the Boss?" "Soap," "Rhoda" and "Caroline in the City."
"I learned to have more patience writing "God, Please Give Me Patience…and Hurry!" than it took to play Rodney Dangerfield's wife, Lea Thompson's nosy next-door neighbor or preparing pasta primavera for forty people," smiles the Brooklyn born Sicilian-American actress. She also starred in "Lovers and Other Strangers" on Broadway.
Conley is a veteran of variety/comedy sketch writing and a tribute award show writer who cut his teeth at the tender age of 22 (in 1982) when he began his writing career with sketch comedy for TV legend Bob Hope. He is born and raised in LA, Jesuit educated, and a veteran Hollywood publicist who also served as Vatican Press Advance for Pope John Paul II and His Papal Mass at the LA Coliseum.
"Azzara and Conley joined their talents to give you a quirky comedy look behind the scenes of working in Hollywood. They have written a comedic collection of short stories that will literally make you laugh-out-loud," explains Gvili.
Boulevard Books is an educational publishing company for the 21st century. Founded by educator and author Avi Gvili in 2010, it aims to bring to the public the voices of the new century.