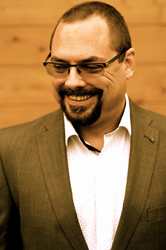 GDMG is data driven, so analytics are paramount to us understanding what our users and customers want.
LOS ANGELES (PRWEB) March 29, 2019
GoDigital Media Group has named Manfred Van Ursel as Chief Technology Officer for the company. The announcement was made by Chairman/CEO Jason Peterson. Van Ursel will unify the operating technologies of all GDMG business units, which include Cinq Music, VidaPrimo, ContentBridge and AdShare. GoDigital Media Group is a media and technology company focused on intellectual property rights management and distribution through its operating subsidiaries. It currently employs several hundred people in sixteen countries.
"Manfred is one of the most consistently brilliant people I've ever had the pleasure of working with," says Peterson. "He started as one of the first web developers in Belgium, became part of the team that invented and launched content addressable storage and the first real cloud-based storage system while at FilePool (bought in 2001 by EMC). He has led our digital supply chain engineering for the largest studios in the world. We are incredibly excited to have him on the team."
Proprietary Excellence
Van Ursel is no stranger to GoDigital. He worked with ContentBridge as Chief Engineer, creating purpose built adaptations of proprietary software that allow major movie studios to digitally distribute their entertainment content (on any spec) worldwide. Later as GM, Van Ursel oversaw ContentBridge's encoding/delivery of Studio 100 TV's entire catalog to Proximus, the largest telecommunications company in Belgium, with specific versions optimized for television as well as the new Studio100 Go mobile application.
Fast, Automated and Accurate
For his part, Van Ursel says he feels perfectly suited for the job. "As CTO it's a multi-level battle. Make sure we're on top of all functions in the value chain. Our CFO (Hunter Paletsas) is driving ambitious initiatives that we continue to expand specifically around making sure we're spending our money in the right places. We'll do this with better algorithms and AI. GDMG is data driven, so analytics are paramount to us understanding what our users and customers want. Then it all comes down to delivery, getting our content out to as many channels and retailers as possible. More automation with more accuracy equals more confidence. Managing IP rights is not just about what we do right, but what we don't do wrong."
About GoDigital Media Group
GoDigital Media Group ("GDMG") is a diversified multi-national holding company focused on technology enabled intellectual property rights management. Through its operating subsidiaries: Cinq Music, VidaPrimo, AdShare and ContentBridge its mission is to inspire happiness through sharing creativity everywhere. Its 'digital first' subsidiaries provide best-of-breed capabilities in IP acquisition, distribution, and collection marketing locally popular content to global audiences. GDMG content is streamed over five billion times per month.