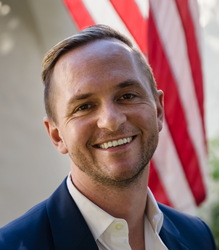 GoDigital is a unicorn of innovation, growth, and leadership, and I am proud to join their impressive leadership team
LOS ANGELES (PRWEB) November 09, 2022
Craig Greiwe has been named Global Chief Strategy Officer and President of Marketing at GoDigital Media Group. The announcement was made by GDMG CEO Jason Peterson. GoDigital currently consists of AdShare, Cinq Music, ContentBridge, Latido Networks, mitu-NGL, Sound Royalties, YogaWorks, Bobs Stores and Eastern Mountain Sports.
"Craig will lead us in business strategy, driving growth in every area from acquisitions to organic growth, from operations to brand to revenue," says Peterson. "He's an amazing resource, with a diversified experience in marketing and business strategy. His track record in marketing and business leadership, from companies and brands ranging from Verizon to Facebook to the late Kobe Bryant, is impressive. And we are excited that he has joined us for the next generation of GoDigital's meteoric rise."
"GoDigital is a unicorn of innovation, growth, and leadership, and I am proud to join their impressive leadership team," said Greiwe. "Our brands are focused on the passions of everyday consumers from media and entertainment to music to sports and wellness. The company's potential is unlimited, and I am thrilled to help them take the marketplace by storm."
Greiwe began his career in Hollywood, before working with clients across retail, sports, commerce, talent, telecom, finance, and music. He was most recently the Chief Strategy Officer of Rogers & Cowan PMK, a division of global giant IPG. His accomplishments include leading pandemic strategies for Verizon; rebranding and launching Verizon Media; overseeing marketing for the late Kobe Bryant; and most recently, running for mayor of Los Angeles and publishing his memoir with Simon & Schuster imprint Post Hill Press. He is a graduate of USC, DePauw University, and Columbia Law School.
About GoDigital Media Group:
GoDigital Media Group (GDMG) is a privately held multi-national conglomerate founded in 2006 by Jason Peterson to address the convergence of media and technology. GoDigital generates value by leveraging content to connect communities to commerce across three rapid rise verticals: music, video networks and brands. Select business units include Bob's Stores, Cinq Music, Eastern Mountain Sports, mitu-NGL, Sound Royalties and Yogaworks. GDMG was the first worldwide to monetize YouTube, the first to build a cloud based digital media supply chain, and has led in the transformation of music rights as a financial product. Now it is connecting digital content publishing with commerce.