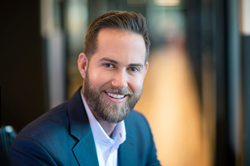 The last six months have shown that consumers have deemed streaming music an essential service during this COVID-19 pandemic
LOS ANGELES (PRWEB) September 18, 2020
GoDigital Media Group's newly formed research department has found statistical evidence that consumers deem their streaming music services as "essential" during the ongoing COVID-19 pandemic. The research was compiled and presented by GDMG's Juan Garza at a recent internal company conference.
"Everyone knows the entertainment industry has been adversely affected the because of COVID-19," says Garza. "The one bright spot is in streaming music services. Music streaming has seen an increase in subscribers during the COVID crisis equal to or in some cases exceeding expectations pre-COVID. The last six months have shown that consumers have deemed streaming music an essential service during this COVID-19 pandemic."
Garza's research points to the success of Spotify during the crisis, arguably the largest and most consequential music streaming platform in the world. According to Q2 earnings reports the company posted an increase of 29% YOY and 5% QOQ in Total Monthly Active Users (299 Million in Q2 2020). This increase was found across the board, Premium Subscribers increased by 27% YOY and 6% QOQ as well. Total Revenue also went up, but sharp declines in ad supported revenue (due to advertiser pullbacks during the crisis) caused growth to be lower than otherwise expected. For the most part, all major music streaming platforms project continued growth in spite of the crisis. Spotify expects to add between 2-6 million premium subscribers in Q3 2020. By the end of the year, Spotify plans to have between 146-153 million paid users and as many as 348 million total MAUs.
"Clearly, the fundamentals of the streaming sector are strong," adds Garza. "People are continuing to stream music and are holding onto their subscriptions (and increasing them) despite the unprecedented crisis we find ourselves in. Now, with the almost ubiquitous use of smart phones and music streaming in the developed world, streaming subscriptions have in many regards joined this category. Because of their relative low price in monthly subscription, and the importance entertainment holds in a person's life to provide escapism, one can hypothesize that industries like music streaming can continue to earn and grow during economic downturn."
About GoDigital Media Group:
GoDigital Media Group ("GDMG") is a diversified multi-national holding company focused on technology enabled intellectual property rights management through its operating subsidiaries: Cinq Music, VidaPrimo, AdShare and ContentBridge. Its 'digital first subsidiaries provide best-of-breed capabilities in IP acquisition, distribution, protection and collection. This enables GDMG to monetize music and video rights more effectively than their prior 'traditional media' owners.
###