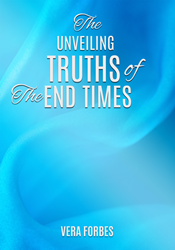 I pray this book will serve as a guide to interpreting the book of Revelation and that the truths revealed will equip many for the journey ahead
LONDON (PRWEB) January 30, 2020
Vera Forbes's book, The Unveiling: Truths of the End Times ($18.49, paperback, 9781545604823; $9.99, e-book, 9781545604830), is available for purchase.
The Unveiling: Truths of the End Times explains Biblical prophecies. These revelations may be seen as a demonstration of God's love to prepare the Church for the greater things to come, as it is written "greater is the end of a thing than the beginning." These greater things will come with their associate challenges of which the Church must be aware. The unveiling is an inspiring and eye-opening journey through the prophecies of the Bible, even such utterances that were not seen as prophetic.
In The Unveiling, Forbes discusses how God is raising up a new and bold generation of believers as expressions of Christ on earth. His limitless knowledge and perfect wisdom enables Him to work beyond the bounds of human reasoning, hence why He has written biblical truths in symbols and parables to bring about a reawakening in the minds of the saints of this Church Age. This unveiling harmonizes and highlights what the prophets had to say about the events of the times of the end. They reveal what God variously said in the past.
"I pray this book will serve as a guide to interpreting the book of Revelation and that the truths revealed will equip many for the journey ahead," said Forbes.
Xulon Press, a division of Salem Media Group, is the world's largest Christian self-publisher, with more than 12,000 titles published to date. The Unveiling: Truths of the End Times is available online through xulonpress.com/bookstore, amazon.com, and barnesandnoble.com.