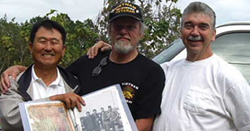 It was a wonderful moment that we will both remember for the rest of our lives, and we owe it to VetFriends. Thanks for making it possible.
CHARLESTON, S.C. (PRWEB) November 17, 2020
For 20 years VetFriends.com has helped veterans reunite with their service friends and share memories spanning from the Korean War, to Vietnam, Desert Storm and the present. Unfortunately, due to expenses and higher technology costs - VetFriends is asking for help to continue their mission to help veterans reconnect. The gofundme campaign can be found here: https://gf.me/u/y8bb46
VetFriends.com was created to reunite veterans with their service friends and memorialize their service to share with family and loved ones so that they are not forgotten. Special bonds are formed between U.S. military personnel who have and are serving side by side in the U.S. Armed Forces. These bonds are deeply-rooted precisely because of the unique and often difficult circumstances under which they were formed in the Military.
VetFriends founder and veteran Dale Sutcliffe says, "So often I've sat with veterans listening to their stories – their faces start to light up. Memories they thought they'd forgotten come flooding back to them. Seeing a picture of the base they served at or their barracks that another veteran posted, there is usually a silence…followed by tears that turn into a smile. You can feel the pride entering their hearts. You really never know what's hidden in their soul, their life experience until we listen and help them to recreate the memories."
The initial idea for an online veteran registry came to Sutcliffe, during a conversation with his father-in-law, who served in the Korean War. When asked whether he would attend a hypothetical reunion with his old Army unit, his father-in-law responded, "I'd be on the next plane to Korea to see those guys." Reflecting on the depth of this reply, Sutcliffe realized that those bonds of military brother and sisterhood often withstand the test of time and could be re-established through modern technology.
Donations will help veterans and their families share and relive their proud service time, passing on the legacy of their life. Here is how VetFriends intends to allocate funds:

Improve website technology and access for veterans, with interactive pictures, maps, stories, and updated tools to find military friends.
Develop programs to give back to veteran retirement homes, while introducing veterans to resources to help them re-experience the joy and pride of their service.
Create a system for veterans to easily convert their pictures, stories, maps and awards into photo books to pass on to their children and grandchildren. A legacy that can be passed down through generations.
VetFriends.com offers additional services such as: information on how to obtain your own or a relative's military records and medals; military message boards; a photo collection featuring past and present photos; military jokes; site tools where visitors can search for and post military reunion notices and more.
So many things are possible today because of the brave men and women who have served and are serving in the U.S. Military. With the help of donations, VetFriends will continue to be a resource for veterans to reunite with old friends; share memories of service; and preserve their legacy for their children, grandchildren and friends.
Founded in 2000 by a U.S. veteran, thousands of people have been reconnected through VetFriends.com, spanning from World War II, to Vietnam, to Operation Desert Storm and the present.
Please visit https://gf.me/u/y8bb46 to make a contribution to the VetFriends mission.