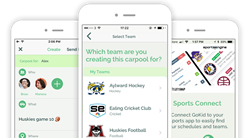 We're delighted to help coaches ensure their team shows up. We're making carpooling a team activity as well!
NEW YORK (PRWEB) February 26, 2019
GoKid, the complete carpool solution for schools, teams and families, announced today a partnership with SportsEngine Inc., an NBC Sports Group company and the leading sports technology provider. This partnership will allow users of the GoKid family carpooling app to import their sports schedules straight from SportsEngine to allow for not just faster carpool setup, but also an easy way to find potential carpool partners on their team. The integration is focused on the families of children participating in youth sports, but will also benefit coaches as they can recommend GoKid as a solution for getting to games and practices.
"We're so pleased to offer this sports integration so coaches can help their teams get to sports events. We know many of our users already carpool to sports, this will make it even easier for them," said Stefanie Lemcke, founder and CEO of GoKid. "We're delighted to help coaches ensure their team shows up. We're making carpooling a team activity as well!"
In the US 33 million kids participate in organized sports. Millions of team organizers and leagues are using SportsEngine to set up registration and rostering, and keep the team informed. By partnering with GoKid, SportsEngine now allows parents to import their teams' practices, games, and events into GoKid. After a three-minute setup, parents can create carpools based on the team schedule and invite team members' families to share driving responsibilities. Using GoKid to set up sports carpools will help ensure team members can get to and from practices and games, even on days when their parents aren't available. The app includes features like mapping and route planning, alerts for driving times, and easy invitation management. Sharing the rides with other families will help make sports more fun for everyone by relieving stress on parents as drivers, and on coaches who are trying to ensure their team shows up.
The integration will initially be available on GoKid's iPhone app and coming to Android later this spring. It will be a feature included in the free version of the GoKid app to ensure that sports carpooling is available to everyone.
"At SportsEngine, our primary focus is to make the lives easier of the coaches, parents, volunteers, and athletes so they have more time to focus on the sports they love," said Rick Ehrman, VP of Corporate Business Development, SportsEngine. "Partnering with GoKid and utilizing their carpooling app to allow for faster carpool set-up along with an easier way to find potential carpool partners on their team is huge in saving time and money for everyone."
Both companies are making parents' lives easier by helping them schedule children's sports activities. This partnership has the potential to enable millions of parents to streamline their sports activity transportation.
About GoKid
GoKid is the complete carpool solution for schools, teams and families. An easy-to-use application enable families to set up and manage carpools with people they know and trust. GoKid is an alumnus of Techstars Mobility and winner of the US Energy 2018 program. The company is backed by Jaguar Land Rover's InMotion Ventures, Deutsche Bahn Digital Ventures, Village Capital, and Techstars. Founded in 2015, GoKid is headquartered in New York City. Over 250,000 carpool trips have been created on GoKid, saving parents over 3 million miles of driving. To learn more about how we work with schools, teams and corporations, visit http://www.gokid.mobi.
About SportsEngine
Helping the world play smarter and live more, SportsEngine, Inc., an NBC Sports Group company, is the leading software provider of sport life management solutions for 35MM coaches, parents, athletes, and sport relationship management applications for more than 1MM clubs, leagues, governing bodies, and associations. SportsEngine helps sports organizations around the globe reduce the time they spend on administrative tasks, and enables them to focus more on developing their athletes, providing safe experiences, and furthering the love of sport. Learn more at: http://www.sportsengine.com, Facebook.com/sportsengine, or twitter.com/@sportsengine.