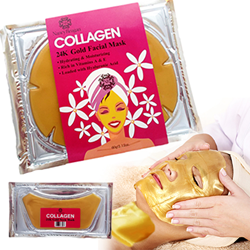 Now I can use it myself at home
Delray Beach, FL (PRWEB) August 29, 2014
MiBellaReina.com has recently updated their site to launch the exclusive Nancy Reagan 24k Gold Collagen Facial Mask and Neck Mask. The addition comes as the online health and beauty shop expands their online presence.
The launch of the new facial mask infuses state of the art ingredients including plant collagen, gold powder and vitamin A & E into a gel mask. This unique product has the ability to create one-way absorption. The special serum is then absorbed rapidly into the skin. Upon application, the gold collagen mask starts to create a layer on top of the skin. This layer forces the skin to absorb the collagen and creates an antioxidant and detoxifying effect.
The luxurious mask, introduced this week, will be the focal point around the upcoming introduction of the Bella Reina Facial in a Box. In addition, this product will include products to complete a D-I-Y professional facial at home. The Facial in a Box will be the table gift for the Bethesda Hospital Women of Grace Luncheon to be held at Mar-a-Lago in Palm Beach on November 12th.
Long-time spa goer, Nilsa McKinney, the Women of Grace chairperson, had this to say about the mask: "I've been having the collagen mask treatment at the spa for years with my facial. Now I can use it myself at home. It's not as much fun as having someone apply it, but when I don't have time, it's a great alternative."
For more information on the Nancy Reagan 24k Gold Collagen Mask, email MiBellaReina.com at info(at)mibellareina(dot)com.
About Bella Reina: Bella Reina is the leading spa provider and definitive authority on luxury beauty, wellness, and spa treatments. Bella Reina was created by Nancy Reagan, a nationally recognized expert in beauty, nutrition, weight loss, skin care, and makeup. Nancy and Bella Reina Spa have been featured in the New York Times, WebMD, Les Nouvelles Esthetique & Spa, and PC Advisor for spa industry expertise and business success. To learn more about how Bella Reina is constantly innovating both spa services, spa memberships and shopping, please visit BellaReinaSpa.com or MiBellaReina.com.