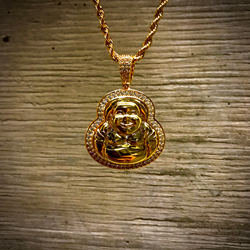 LOS ANGELES (PRWEB) April 17, 2020
Gold Kings launches its official website of hip-hop inspired jewelry that offers affordable pendants, chains, rings and bracelets for consumers. Launching with over 100 products, Gold Kings' target audiences includes males from the ages of 16 to 35, providing them hip hop jewelry for under $100 for most items.
Gold Kings' starting product categories includes necklaces, bracelets, rings and chains that feature 18K gold and silver-plated products with simulated CZ stones. Each pendant offers three chain options for customers to choose from – 18", 24" and 28"—allowing customers to customize the size of the chain at no additional charge. The necklaces collection features standard hip-hop product designs, including Jesus pieces, crosses, angels and Ankh crosses.
Meanwhile, its chain category starts with tennis, Cuban, rope and franco chains, each with various thickness and lengths. Chains come in sizes as small as 3mm to as large as 12mm and feature three lengths – 18, 24 and 28 inches. The bracelet category mirrors the chain types offered, including Cubans, rope, franco and tennis bracelets to provide matching sets for customers. Finally, the ring category features tennis and Cuban ring variations and include sizes 7-10 with more styles to come in the near future.
Gold Kings' products all use 18K gold plating or silver plating that come dipped in a 5-time gold or silver-ionic bath. Each dipping process ensures the plating stays in tact over time and usages. Meanwhile, the simulated CZ stones come handset along a prong setting to provide added security and strength to keep the stones in place. These simulated CZ stones vary from as small as 1mm to as large as 5mm to ensure each product category meet the standards of hip hop jewelry.
Pricing on Gold Kings will remain highly competitive against other online stores, providing a low-end tier ideal for individuals after affordable jewelry. All necklaces will start at under $79.99 USD, while its chain category will stay under $110 USD with prices as low as $29.99 USD. Its bracelet category will feature products as low as $19.99 USD to as high as $89.99 USD. The ring category will start products as low as $29.99 USD to as high as $34.99 USD.
For more information on Gold Kings website, products and categories, please visit https://shopgoldkings.com/ to view its full selection of the most affordable hip hop jewelry. Follow @ShopGoldKings on Instagram for new releases, promotions and giveaways.