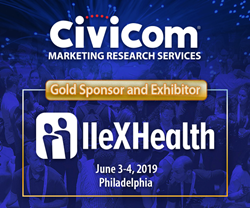 Civicom explained the risks of non-compliance and the crucial steps necessary in ensuring HIPAA compliance for all stakeholders when conducting web-enabled healthcare market research.
GREENWICH, Conn. (PRWEB) June 17, 2019
Civicom Marketing Research Services, a leading market research facilitator using telephone and web-enabled tools, was a gold sponsor and speaker at IIeX Health, a two-day event held on June 3-4 in Philadelphia. Rebecca West, Global Vice President of the Civicom Marketing Research Services Group, tackled HIPAA compliance in web-enabled marketing research.
Civicom joined insights professionals in the healthcare and pharma industry at IIeX Health, dubbed "Future of Healthcare & Pharma Insights," for two days of exploring emerging trends and innovative research methods crucial to achieving a better understanding of the healthcare and pharma landscape. Civicom aims to utilize valuable takeaways from the conference to optimize its suite of solutions that include audio and web technology for interviews and focus groups, asynchronous online bulletin boards, and mobile research solutions for audio diaries and patient journeys.
Global VP Rebecca West presented "Ten Ways to Stay HIPAA Compliant in Web-Enabled Marketing Research," addressing a concern that belabors virtually every healthcare market researcher. Maintaining compliance with the HIPAA Privacy and Security Rules involves various moving parts that require vigilance from all stakeholders, more so when conducting web-enabled market research. As an experienced provider of telephone and web-enabled marketing research facilitation services for healthcare, Civicom maintains and fosters a strong security culture that complies with various privacy and security regulations.
Civicom's presentation provided attendees with vital information on risks of non-compliance and actionable takeaways that can aid in their success when ensuring that the compliance of their third-party market research service partners is well-met and maintained in the long term.
For individuals who are interested in learning more about "Ten Ways to Stay HIPAA Compliant in Web-Enabled Marketing Research," Civicom will be hosting a free webinar on the following dates and times:
Wednesday, June 26, 2019 @ 10 AM PT/ 12 PM CT/ 1 PM ET/ 6 PM UK
Thursday, June 27, 2019 @ 7 PM MT / 8 PM CT / 9 PM ET
Friday, June 28, 2019 @ 9 AM SGT
Click here to register for the webinar.
About Civicom Marketing Research Services
Civicom Marketing Research Services offers many options to enhance the research process for marketing research professionals. Civicom is the global leader in facilitating telephone and web-enabled in-depth interviews and focus groups using Civicom CyberFacility®. Civicom also offers Civicom Chatterbox®, an asynchronous research platform for online communities and bulletin boards, plus the Civicom ThoughtLight™ Mobile Insights App, a mobile qualitative tool for collecting richer in-the-moment insights, useful for shopper insights, audio diaries, and patient journeys.
Civicom operates in over 96 countries and offers extensive translation services for marketing researchers, as well as transcription services through TranscriptionWing™, and market research respondent recruiting through CiviSelect™.
Civicom developed CCam focus®, a portable 360° HD streaming solution with video curation capabilities for live, in-person focus groups, which enables market researchers to stream in-person interviews and focus groups as well as from outside-facility locations such as a hotel, conference room or a home. With 360° perspective, crystal clear audio and integrated video curation tools, CCam focus ensures every response is captured and video deliverables are efficiently generated within minutes for closer review of key moments. The result is no bad seat in the house for omnidirectional viewing of all participants. Civicom also provides personalized service and support for set up, troubleshooting and additional assistance throughout every session.
Civicom Marketing Research Services and Schlesinger Group have now partnered in a Strategic Alliance to mutually serve the needs of clients needing web IDIs and focus groups combined with high quality recruiting services. All of these services are available in Spanish, as well as English, and multiple other languages.
Civicom Marketing Research Services chooses to be as dynamic as it is innovative; always listening to and acting on clients' ideas and requests as they see fit. This kind of relationship has paved the way for the development and roll-out of new services. To learn more, email Civicom® at inquire(at)civicommrs(dot)com or call +1-203-413-2423.