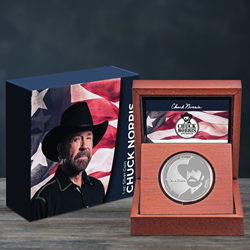 As a worldwide icon and longtime precious metals investor, Chuck Norris is a symbol of American pride.
LOS ANGELES (PRWEB) November 09, 2021
Goldco and the New Zealand Mint are pleased to announce the release of the 2021 Chuck Norris 1 oz. Silver Coin. This beautifully designed coin is the first of its kind that harkens back to the principles that have defined America for centuries.
"The one thing that made our country into the Land of Opportunity is now in danger of becoming worthless," stated Chuck Norris. "I remember previous episodes of rising inflation, economic uncertainty and high government spending. Back then, I invested in silver and gold to protect my money just as I am doing today." He went on to say, "Minting a silver coin as an homage to the time-honored Principles that have guided me is a way that I can help remind people what it means to be an American."
Each coin weighs 31.10 g, contains 1.0 Troy Ounce of 0.999 pure Silver, and is the size of a Silver Eagle coin. The reverse of the coin is engraved with the 5 fundamental principles that Chuck's mother instilled in him: Faith, Family, Fitness, Freedom, and Fight. A Certificate of Authenticity is included. The obverse of the coin features the Niue effigies Coat of Arms and Public Seal. This first-ever, legal tender Chuck Norris coin comes ready to showcase and enjoy with its own real wood display stand and patriotic packaging as an ode to Mr. Norris' service in the Air Force. The coin is in limited supply and can be purchased at chucknorrissilvercoin.com.
"As a worldwide icon and longtime precious metals investor, Chuck Norris is a symbol of American pride. I am so honored to present this unique 1 oz. Silver coin for everyday Americans," said Trevor Gerszt, Founder and CEO of Goldco. "Chuck Norris has been a lifelong investor in silver and gold and to mint a coin that represents the American dream is certainly a dream come true for me."
Brent Hindman, Head of Sales & Marketing at the New Zealand Mint states, "We believe the Chuck Norris 1 oz. Silver coin will be snapped up in record time. Mr. Norris is beloved worldwide and his fans are very passionate about his life's principles which are displayed beautifully on this one-of-a-kind Silver coin."
The Chuck Norris 1 oz. Silver coin is priced at $97. To purchase this limited edition coin, visit chucknorrissilvercoin.com.
About Goldco
Goldco is a privately held company in Los Angeles. It offers customers who are interested in diversifying their retirement portfolios with precious metals. For more information, visit https://goldco.com/chucknorris/
About The New Zealand Mint
New Zealand Mint has been minting legal tender collectible coins, gold bullion and medallions for more than five decades. As New Zealand's only precious metal mint and one of the first world mints to adopt the .9999 standard for gold coin purity, New Zealand Mint prides itself on high quality design and production work. Leading the way with innovative silver and gold collectible coins, New Zealand Mint is known globally for quality and design excellence. Creative and attractive packaging makes our coins a great gift or a timeless collectible. For more information, visit https://www.nzmint.com/