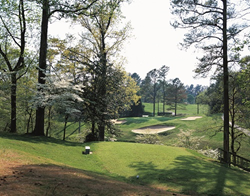 Williamsburg, VA (PRWEB) April 16, 2014
Colonial Williamsburg's Golden Horseshoe Golf Club will celebrate another 50th anniversary when its popular executive length Spotswood Course turns golden this summer. Designed in 1964 by Robert Trent Jones Sr., the dean of American golf course architecture, during construction of the adjacent Gold Course, the elder Jones incorporated many of the greens and tees of the Williamsburg Inn's original nine-hole course – built in 1947 – into the Spotswood Course.
Named for Gov. Alexander Spotswood, the British governor of colonial Virginia whose daring 1716 expedition to Virginia's frontier is the reason behind the Golden Horseshoe name, the executive course offers challenges to golfers at all skill levels and is a favorite of families looking for an entertaining, shared outdoor activity. Fast-paced lifestyles don't always allow time for a full round of 18, but the Spotswood provides a few embracing hours on nine beautiful holes where play can be enjoyed by junior golfers, beginners and experienced golfers alike.
Once called the "best short nine-hole course in the country" by Golf Magazine, the par-31 Spotswood Course measures 1,865 yards with one 480-yard par 5, par 4s of 285 and 305 yards, and six par-3 holes that vary from 90 to 215 yards.
Frequently serving as a warm-up for resort guests preparing to play the Gold and Green Courses, the Spotswood layout enjoys its own enthusiastic and loyal following among Golden Horseshoe Golf Club members, who often use the two sets of tees to play an 18-hole round.
According to legend, Gov. Spotswood organized his daring expedition to explore the far reaches of the Virginia colony. Aware of the frontier's economic potential and bent on encouraging westward settlement, he led a party of 63 men on an arduous journey across Virginia's rocky Piedmont and Blue Ridge terrain. The trek took a high toll on men and horses requiring great quantities of replacement horseshoes. Upon their return, the governor presented each companion with a Golden Horseshoe, some reportedly studded with valuable stones resembling the nail heads.
The Golden Horseshoe Golf Courses epitomize the tradition and mystique of Spotswood's expedition: the challenge of daring adventure, the enjoyment of a peaceful and spectacular environment, and the reward of completing an arduous test. Revenue from golf play on the Golden Horseshoe Golf Club's three public courses supports The Colonial Williamsburg Foundation, keeping this vital piece of American history alive and thriving.
For golf tee times call 800-648-6653. For reservations or package information at an official Colonial Williamsburg hotel, call 855-296-6627 or visit .
The Colonial Williamsburg Foundation preserves, restores and operates Virginia's 18th-century capital of Williamsburg as a 21st-century center for history and citizenship. Innovative and interactive experiences, such as the street theatre Revolutionary City® and the RevQuest: Save the Revolution!TM series of technology-assisted alternate reality games, highlight the relevance of the American Revolution to contemporary life and the importance of an informed, active citizenry. The Colonial Williamsburg experience includes more than 400 restored or reconstructed original buildings, renowned museums of decorative arts and folk art, extensive educational outreach programs for students and teachers, lodging, culinary options from historic taverns to casual or elegant dining, the Golden Horseshoe Golf Club featuring 45 holes designed by Robert Trent Jones and his son Rees Jones, a full-service spa and fitness center, pools, retail stores and gardens. Philanthropic support and revenue from admissions, products and hospitality operations sustain Colonial Williamsburg's educational programs and preservation initiatives.
###