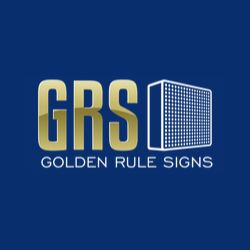 "People are our most important assets," says Logan Baker, CEO of Golden Rule Signs. "Attending to our team's professional development has helped us grow and drive us forward in the industry."
LOUISVILLE, Ky. (PRWEB) September 27, 2019
Golden Rule Signs, a professional LED sign company serving clients nationwide, has seen significant business development in the last two years. Since 2017, the Louisville-based company has more than doubled in size, and business has increased by 40%.
"Strategic moves have brought upon this rapid growth, particularly our initiatives to focus on team building and maintaining company culture," says Logan Baker, CEO of Golden Rule Signs. "People are our most important assets. Attending to our team's professional development has helped us grow and drive us forward in the industry."
Years 2017-2018 saw a 20% increase in revenue, and this year's revenue is projected to increase by 33%. In direct response to this upward trajectory, Golden Rule Signs began the process of onboarding new team members and innovating & improving their technology.
New additions include an expanded graphic design team and an established project management team. Ben Williamson, formerly head of sales, now leads business development for Golden Rule Signs, overseeing a sales team of four: Rob Ivey, northeast region; Seth McNeal, midwest region; Ethan*, southeast & Great Lakes regions; and Tim Schomer, western region.
Golden Rule Signs also instituted an in-house technical support team, offering their clients complimentary support services for the life of the sign. The company's user-friendly, cloud-based communication software, Impact Cloud, allows users to publish content to their sign from the comfort of their home computer or the convenience of their mobile device. Easy to learn and easy to use, the software maximizes the power of a sign's display capabilities.
"To see our team more than double in the past year has been a fun ride," says Aaron Shellnutt, COO of Golden Rule Signs. "We're motivated to make this company better and better. We're always striving to be better tomorrow than we were today."
About Golden Rule Signs:
Based in Louisville, Kentucky, Golden Rule Signs is a nationwide professional LED sign company providing outdoor sign systems and marquees for businesses, churches, school systems, and military bases. This professional firm can carry your project from initial concept design to on-site installation. Golden Rule Signs' products offer unmatched functionality at a price that makes the absolute most of your budget. Their commitment to craftsmanship and customer service has benefited thousands! Visit them today at goldenrulesigns.com for more information.
Media Contact:
Ashley Shadburne
ashley@hatfieldmedia.com
hatfieldmedia.com