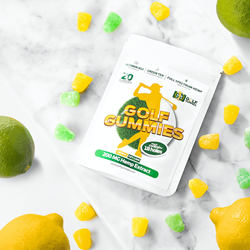 When I see professional tour players using and embracing CBD, I know we're on the right path.
EL SEGUNDO, Calif. (PRWEB) November 24, 2021
Golf Gummies today announced 10mg CBD gummies in a delicious lemon & key lime flavor, a new product exclusive for golfers. Golf Gummies proprietary blend of hemp-based CBD, vitamin B12, and green tea extract offer a new way for golfers of all levels to increase focus, boost energy, improve clarity, and speed up recovery.
"I'm a golf junkie and a workaholic. I founded Golf Gummies to help golfers like myself who need to reduce the noise of the day, enhance their time on the course, and level up their golf game," says James Bailey, Founder at Golf Gummies. "Our mission is to help golfers feel better and play better using natural ingredients. When I see professional tour players using and embracing CBD, I know we're on the right path."
Features and benefits of Golf Gummies include:
CBD Golf Gummies For Focus
Golfers need to focus on the next shot that's coming. It doesn't matter what happened on the last hole or how great a chip shot they just hit. It only matters what is in the current moment. Our custom formula of clean CBD with green tea extract and B12 is the best CBD for golf. Golfers can receive enhanced focus that can help them stay dialed in on the course.
CBD Golf Gummies for Energy
Staying in control for 18 holes of golf requires energy. Golfers need to maintain consistent levels of energy to maintain a consistent score. Our CBD for golfers with green tea extract is the perfect solution to deliver that extra energy they need and even help them relax their muscles after a stressful round.
CBD Golf Gummies for Clarity
As many know, CBD for golfers may improve mental clarity. With our unique blend of CBD, B12 and green tea, golfers can find improved clarity and better alertness on the course. Our CBD gummies provide golfers with a better sense of clarity and a quick mental boost that is perfect to have when aiming for a low round.
Golf Gummies CBD gummies are made from only the purest hemp oil extract and infused B12 and green tea extract to provide golfers an incredible boost on and off of the course.
CBD Golf Products for Recovery
With our CBD gummies, golfers can focus their energy on the game instead of trying to manage aches and pains. CBD golf gummies with green tea extract and B12 can help to increase blood circulation that leads to healthier muscles. We all know the aches and pains that come with golf, whether it's from swinging hard or just simply walking a full round. Our bodies are inevitably going to feel some discomfort. With our CBD gummies infused with green tea extract and B12, golfers can experience faster muscle recovery after a strenuous round of golf.
Golf Gummies are Third-Party Tested for Safety, Purity, & Quality
Safety is essential to the founders of Golf Gummies. Every batch of CBD golf gummies goes to a third-party lab to ensure their purity and quality. All ingredients are safe for consumption and 100% natural. These pure edibles are GMP certified and made in an FDA-registered facility. We use only American grown, clean hemp and solvent free extraction processes so Golf Gummies have the highest quality CBD containing no chemical residue.
Golf Gummies Are Made In The USA
One of the essential aspects of CBD products is ensuring their safety. We make our golf products in the USA and have a team of dedicated individuals making sure they are tested, handled, packaged, and shipped with care.
Our Gummies are the best CBD for golf and are a great way to relax on or off the course. The formula includes green tea extract and B12, which can relax muscles, improve mental clarity and focus, provide an energy boost, and help fight muscle soreness after a round.
Golf Gummies will be available starting November 24, at $39.95. For more information on our products, visit Golf Gummies.
About Golf Gummies: Golf Gummies was created by golfers for golfers. We've been there - putting in the miles on the course and feeling like we need a little boost to keep our focus and clearheadedness when it matters most. Golf is our time to escape, compete, and be happy.
Golf shouldn't be a place where we feel anxious or worry about the game's outcome. Our goal with Golf Gummies is to encourage a stress-free round and help golfers stay in control for 18 holes.
The B12 and green tea keeps golfers alert, while the CBD keeps stress levels low.
As Ben Hogan once said, "The most important shot in golf is the next one."
With our CBD for golfers, walking onto the greens, a golfer's thoughts should be on what's right in front of them, and the stress of the day should be left in the parking lot. We wanted to create a happy place that allows golfers to focus on their game and enjoy the moment, and we've done that with the launch of Golf Gummies.